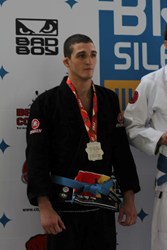 "We're always happy to have top up-and-coming Jiu Jitsu competitors come onto the mat. I've known Joey since he was a White Belt and it was cool having him train with some of our top guys."

- Julius Park
Elkridge, MD (PRWEB) August 12, 2013
Joseph Ruggiero, accomplished Brazilian Jiu Jitsu competitor and Pan American Champion, visited Crazy 88 Brazilian Jiu Jitsu in Elkridge, Maryland to prepare himself for the upcoming Boston International Open.
Brazilian Jiu Jitsu is a grappling martial art made famous by the Gracie family in Mixed Martial Arts events such as the UFC (Ultimate Fighting Championship). It focuses on jointlocks and choke holds, which allow its practitioners to subdue an opponent with striking them.
Brazilian Jiu Jitsu competitions are now common throughout North America as well as the World. The four highest level tournaments are the European Championship, the Pan Championship, the Brazilian Nationals, and the World Championship.
In 2013, Joseph Ruggiero, who competes in the Blue Belt middleweight division, medaled in three of the four major competitions, including winning a Gold medal in the Pan Championships, commonly referred to as the Pan Am.
Ruggiero visited Crazy 88 BJJ to get work with some different high level grapplers.
Crazy 88 Head Coach Julius Park stated, "We're always happy to have top up-and-coming Jiu Jitsu competitors come onto the mat. I've known Joey since he was a White Belt and it was cool having him train with some of our top guys."
For more information about Crazy 88's Jiu Jitsu programs in the Baltimore area, please visit http://www.Crazy88BJJ.com or call (443) 283-1450.