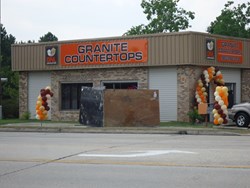 Come On By and See Our Selection of Granite!
Lafayette, LA (PRWEB) August 23, 2013
Green construction is big business. In the past decade it has revolutionized the homebuilding industry with natural, sustainable materials and environmentally friendly processes driving creativity and innovation.
The establishment of the Leadership in Energy and Environment Design Green Building Rating System in 1998 introduced a new standard for construction, since which homebuilders and the companies which supply their materials have been striving to provide more environmentally responsible products. GNL Contractors, which provides granite and marble products to builders and homeowners in the Lafayette, LA area from its Slidell base, is proud to have been part of the trend.
As suppliers of natural stone products made from high quality granite and marble, GNL Contractors place the environment at the heart of what they do. Natural stone is long-lasting, durable, recyclable and easy to care for, making it the material of choice for green builders and socially responsible homeowners.
Now, the company is going one step further. Until the end of 2013, GNL is offering customers a free 15-year sealer warranty on their granite kitchen countertops. The offer is for countertops in four colors with a choice of standard edging. The sealer ensures that the countertops last longer by providing them with added durability and enhanced resistance to stains.
With their usual knack for fresh design, GNL Contractors are also offering an alternative offer – a free under-mounted stainless steel sink that sits flush with the countertop surface for the ultimate in modern kitchen finishes.
With the housing market across the US picking up again, homebuilders are once more looking for new projects, and those in Louisiana are no exception. Owners are also looking to sell and move up the housing ladder, with kitchen remodelling often high on the agenda.
GNL Contractors' offer will no doubt come as good news to those looking to include an environmentally responsible kitchen in their plans. As well as being a natural product, granite is a sanitary material which discourages bacterial contamination. Thus mild detergent can be used in place of harsher chemicals such as bleach. It can also take the heat of a pan directly onto its surface, having been formed originally through intense heat and pressure.
For those who are conscious of monetary matters as well as environmental ones, granite remains the obvious choice. It doesn't depreciate in value and adds value to the home when installed. Granite also appeals to those with a keen eye for design. The unique coloring and patterning of the stone means that no two pieces are exactly the same, so any room that features granite will always be one of a kind.
With the modern emphasis on individuality and green design pushing homebuilders to use natural products in innovative ways, GNL Contractors look forward to helping those in the Lafayette area create even more special homes through their fantastic current offer.
To find out more about GNL Contractors and their 2013 special offer, call (985) 288-5112, visit their showroom in Slidell, LA or check out http://www.gnlcontractors.com/.