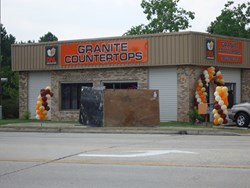 Serving Proudly Waveland!
Waveland, MS (PRWEB) August 25, 2013
Waveland, MS has known its share of difficulties. On August 17, 1969, the city was heavily damaged by Hurricane Camille, resulting in a recovery operation that took almost ten years to restore the city to its former glory. Then on August 29, 2005, Waveland was struck once again, when the devastating Hurricane Katrina made landfall directly on top of it. Large parts of the city were almost entirely destroyed, and those that weren't suffered heavy flood damage.
Nearly a decade later, Waveland residents are still fighting to restore their city. While the initial crises of food shortages and illness have been dealt with, building work is still underway to recover Waveland's public and private properties. Now, GNL Contractors is supporting Waveland residents and homebuilders to restore their homes for less.
GNL Contractors is a specialist importer of granite and marble. The family-run company manufactures granite and tile work for kitchens, bathrooms and other areas of the home, using natural stone products sourced from around the world. Their emphasis is on providing each home with a stunning and individual finish, so that homeowners can add value to their property through the inclusion of uniquely patterned natural stone.
The company's latest offer, which runs until the end of 2013, sees customers who purchase granite kitchen countertops receive either a free under-mounted sink or a 15 year sealer warranty. The countertops are available in a choice of four colors and four edging styles, to suit a wide range of kitchen styles. The sink offer includes a stainless steel under-mounted basin, which aligns beautifully with the edge of the countertop for a flush finish, while the sealant offer provides almost entirely stain-proof countertops for lasting value.
From their base in Slidell, LA, GNL Contractors are servicing the city of Waveland for just $32 per square foot of granite countertop. The price includes not just the countertops, but also the measurement and fabrication of them, plus custom installation. The current offer makes them incredible value for money and comes at a time when Waveland is poised to press on with the final phase of its lengthy recovery efforts from Hurricane Katrina.
While initial repairs necessarily focussed on the practicalities of ensuring the city became operational once more and housing those de-homed by Katrina, work is now turning to the finishing touches. There is still some way to go, but with the determined residents and homebuilders supported by GNL Contractors, it is clear that the resilient city of Waveland will continue to go from strength to strength as the restoration work continues.
To find out more about GNL Contractors and this incredible offer, call (985) 288-5112, visit their showroom in Slidell, LA or check out http://www.gnlcontractors.com/.