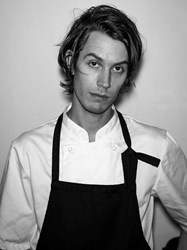 "I am super excited to come to Williamsburg to cook with Fredrik," says Chef Esben Holmboe Bang of Oslo's Maaemo Restaurant.
New York, NY (PRWEB) August 13, 2013
Yesterday, Bon Appetit Magazine released their official list of "The Top 10 Best New Restaurants in America". Coming in at number 10 is Aska, the New Nordic inspired Williamsburg hot spot. Aska will be hosting several dinners throughout NORTH, New York City's first Nordic food festival, hosted by Honest Cooking Magazine, in collaboration with Restaurant Aquavit and the International Culinary Center in SoHo. Tickets to the dinner are currently available on the fesitval's website.
"We are very excited and honored to include Aska in NORTH," says Honest Cooking Editor in Chief, Kalle Bergman. "Frederik is a fantastic chef who interprets New Nordic cuisine in such a unique, fresh way."
On Thursday, October 3 and Friday, October 4, guests can attend dinners at Aska as part of the NORTH food festival. NORTH will be hosting multiple dinners throughout the city featuring local Scandinavian chefs paired with international Scandinavian chefs. Cooking with Fredrik at Aska will be Chef Esben Holmboe Bang from Norway. His restaurant, Maaemo, received 2 Michelin stars in its first ever mention in the guide, the first restaurant in Nordic history to achieve that feat.
"I am super excited to come to Williamsburg to cook with Fredrik," says Chef Esben Holmboe Bang. "I had a great dinner there earlier this year and I think his cooking is one of the most exciting around. I am really looking forward to it."
Diners will be treated to a multi-course tasting menu that will maintain Aska's integrity and flair for seasonal ingredients while combining Chef Esben's affinity for raw norwegian nature and climate. The dinners are priced at $195 including tax and gratuity.
"Both chefs are so passionate about the source of their ingredients," says Bergman. "We are so fortunate to be working with chefs of their caliber. I cannot wait to see what they have in store for us."
For information on how to buy tickets, and to read more about participating restaurants and chefs, please visit http://www.northfoodfestival.com .
If you'd like more information about this topic, or to schedule an interview with Kalle Bergman or any of the participating chefs, please call Lexi Louca at 516.578.5787 or email Lexi at lexi(dot)louca(at)honestcooking(dot)com.