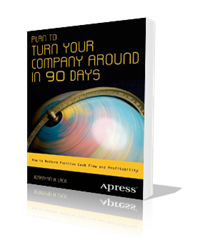 New York, NY (PRWEB) August 13, 2013
More than half of all businesses in the U.S. don't make it to their fifth birthday, and nearly 70 percent are gone by year ten. How do businesses get into trouble? A hundred different ways. Poor cash flow, undercapitalization, lax financial controls, poor worker productivity, boneheaded mistakes, inefficient processes, failure to adapt, loss of enthusiasm . . . the list goes on and on.
The fact is, many businesses that face life-threatening challenges, or are just stuck in the doldrums, can turn their fortunes around. "Plan to Turn Your Company Around in 90 Days" shows how. Its author, Jonathan Lack, is a turnaround specialist—the guy called in to reinvigorate a stalled company or revamp the poor practices that cause sales and profits to plunge. Once he's done, the company is again on the road to growth and profitability.
"Plan to Turn Your Company Around in 90 Days" is a pragmatic, step-by-step guide to helping companies in financial distress not only survive, but begin to grow again. Among other things, this book teaches how to improve cash flow, how to better manage payroll and employee productivity, and how to get better results from marketing and sales efforts. Readers will also learn how to manage a board of directors and investors. "Turn Your Company Around in 90 Days" will help readers develop a framework to create a strategic plan that will breathe new life into tired or worn-out operations and products.
This book is essential reading for anyone who fears their company may not last the next couple of years.
To learn more about "Plan to Turn Your Company Around in 90 Days", visit http://www.apress.com/9781430246688

ISBN: 978-1-4302-4668-8
224 pages
User Level: Beginner to Advanced
Publication Date: July 29th, 2013
Available eBook Formats : EPUB, MOBI, PDF
Print Book Price : $29.99
eBook Price: $20.99
About the author
Jonathan H. Lack is principal of ROI Ventures, which specializes in turning companies around. He has over 20 years experience in management and strategic planning, focusing primarily on consumer product and services companies. He was part of the founding executive management of CompuBank, NA, the first Internet bank to receive a charter from the US Treasury OCC, where he led the bank to one of the industry's fastest growth rates, and he developed brand recognition and customer confidence that earned it the #1 Online Bank ranking by Smart Money magazine. He has helped raise over $36 million in angel, institutional, corporate, and private equity funding for four separate deals.
About Apress Media
With more than 1,500 books in print and e-formats, Apress is the authoritative source for IT professionals, software developers, and business leaders all over the world. Apress provides high-quality, no-fluff content that helps serious technology professionals build a comprehensive pathway to career success. Since 2007, Apress has been part of Springer Science+Business Media, one of the world's leading scientific, technical, and medical publishing houses, enabling global distribution of Apress publications. For more information, please visit http://www.apress.com.