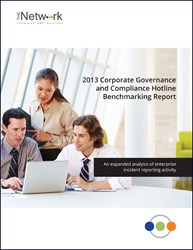 "Organizations will find this report insightful in gauging the overall health of their internal ethics and compliance programs..."
Atlanta, GA (PRWEB) August 13, 2013
The Network, Inc., a leading provider of integrated governance, risk and compliance (GRC) solutions, and BDO Consulting, a division of BDO USA, LLP, today released the 2013 Corporate Governance and Compliance Hotline Benchmarking Report, its eighth annual statistical study of compliance hotline-related activity for the past five years.
According to the benchmarking report's findings, the cross-industry incident-reporting rate increased to 9.27 reports per 1,000 employees, an eight percent increase from the previous year. In addition, the Corporate Fraud Index for 2012, which measures the percentage of fraud-related incidents across all reports, rose to 23.6 percent, an all-time high since the Index was first reported in 2005.
Key findings of the 2013 Corporate Governance and Compliance Hotline Benchmarking Report include:

Retaliation: Retaliation, an ongoing issue for organizations as they work to promote ethical workplaces, was cited as a factor in approximately two percent of cross-industry reports covering a broad variety of ethics and governance-related issues. Retaliation was highest in the Transportation, Communications & Utilities industry, followed closely by Construction.
Actionability (Case Outcome): The actionability rate, which measures the percentage of reports warranting further investigation, rose to 72 percent in 2012. Actionability for reports involving retaliation was significantly higher, at 79 percent.
Web Reporting: In 2012, 14 percent of reports were submitted via the web, a slight increase.
Anonymity: The rate at which reports were made anonymously remains relatively stable, at 49 percent; however, only 21 percent of employees submitting an anonymous report had previously notified management.
Industry Trends: The Construction industry showed a dramatic 197 percent increase in the reporting rate to 18.03 reports per 1,000 employees; the next largest increase came in the Wholesale Trade industry, at 19 percent. Both the Retail Trade and Services Industries saw a reporting rate decrease.
Incident Categories: In 2012, three categories saw slight increases to reporting rate: Employment Law Violation; Corruption & Fraud; and Environment, Health & Safety. Despite a slight decrease in reporting, the Personnel Management category continues to lead all industries by a wide margin.
Prior Management Notification: The majority of employees submitting a report – 72 percent – did not previously express their concerns to management prior to the employee utilizing the hotline.
"Rather than take a snapshot approach to benchmarking, as some companies do, we utilize comprehensive, empirical data to give organizations a useful tool to compare their hotline reporting programs to those of their peers," said Luis Ramos, chief executive officer of The Network. "Our hope is that organizations will find this report insightful in gauging the overall health of their internal ethics and compliance programs, including how they detect issues, the processes they apply to resolve and remediate those issues, and the areas where additional training and communication may be needed."
Ramos continued, "The 2013 benchmarking report comes at a time when businesses are finally starting to feel the effects of the economic recovery. As Ethics and Compliance professionals, we must remain committed to building upon the improvements of these past five years to make sure that ethics and a 'speak-up culture' are top of mind with the workforce."
Beginning in 2008, the current five-year period reviewed for the 2013 Corporate Governance and Hotline Benchmarking Report reflects the largest repository of data to date. This report provides an analysis of 624,046 reports made during the review period. In 2012, 136,137 reports were collected from 1,146 organizations representing more than 15 million employees. The data is compiled from actual incidents reported by clients of The Network and was analyzed by BDO and The Network.
Reports are classified in the following industries: Construction; Finance, Insurance & Real Estate; Manufacturing; Mining; Public Administration; Retail Trade; Service Industries; Transportation, Communications & Utilities; and Wholesale Trade.
For more information regarding this benchmarking report, visit http://www.tnwinc.com or email benchmarking(at)tnwinc(dot)com.
About The Network, Inc.
The Network is a leading provider of integrated governance, risk and compliance (GRC) solutions that allow organizations to create better workplaces and ethical cultures. The Network's Integrated GRC Suite, recognized as the "Apple of GRC" by GRC 20/20, is the first natively integrated enterprise GRC software platform in the compliance industry. The Suite was built to leverage the way employees retain and apply ethics and compliance information and helps companies prevent, detect and remediate non-compliance and unethical conduct. A SaaS-based technology solution, the Suite integrates policy management, training and communications, Code of Conduct, surveys and assessments and case management, all on a reporting and analytics platform. Originally established as the first whistleblower hotline provider in 1982, The Network serves thousands of organizations in every industry, including nearly half of the Fortune 500. For more information, visit http://www.tnwinc.com.
About BDO Consulting
BDO Consulting provides litigation, investigation, business restructuring and risk advisory services to clients in the United States and internationally. Their highly experienced and well-credentialed professionals leverage the global industry and accounting knowledge of the BDO international network, providing rapid, strategic advice to assist their clients.
BDO Consulting is a division of BDO USA, LLP, a Delaware limited liability partnership and the U.S. member of BDO International Limited. BDO International Limited is a UK company limited by guarantee, and forms part of the international BDO network of independent member firms. BDO is the brand name for the BDO network and for each of the BDO Member Firms. http://www.bdoconsulting.com