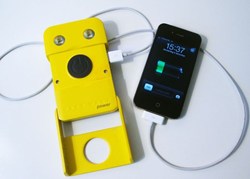 For every WakaWaka Power orderd through Grid Earth, a WakaWaka Light is provided for a family living in dark and dangerous conditions.
Georgetown, TX (PRWEB) August 14, 2013
New Program enables distribution of life-changing light to families living in darkness throughout the world. Buy one WakaWakwa Power Smartphone Charger through Grid Earth and one WakaWaka Light will be provided for a family in need.
The Waka Waka Power solar smartphone charger is great for everyday and recreational use, and is a must have device for power outages and natural disasters. In addition, as part of Grid Earth's Buy 1 Give 1 Program, when you order your WakaWaka Power from Grid Earth a WakaWaka Light will be provided to a family living without access to electricity.
With energy from the sun, the WakaWaka Power can keep your smartphone or other USB devices charged and ready to use at any time. It also provides between 20 and 100 hours of light, using three different brightness settings. You can quick charge your WakaWaka Power from an AC or DC adapter to be prepared in any situation. Its emergency SOS light signal is also exceptionally useful should the need arise. You can learn more about the WakaWaka Power here.
Nearly one quarter of the world is living without access to safe light. Millions of people suffer burns, respiratory illnesses and live in a cycle of energy poverty simply because they have no access to safe light. Grid Earth is working to change this by giving a WakaWaka solar light to families needing protection from these physical dangers.
Families around the world are spending a large portion of their income to obtain kerosene, and candles, rather than to improve their living conditions or to feed, cloth and educate their children. When Grid Earth gives a family a WakaWaka solar light, they also provide increased economic opportunity which is key to ending energy poverty.
Grid Earth has provided thousands of solar lights to families around the world and now with the Buy 1 Give 1 Program, you can help provide WakaWaka solar lights to thousands more.
Children are burned every day in villages around the world because they are forced to live in these unsafe conditions. Now you can be a part of solving this worldwide problem. Helping to save lives and end energy poverty forever.
Visit Grid Earth for more details.