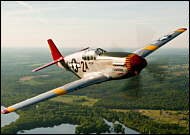 "We had the opportunity to design a very special airshow program this year that our dedicated fans are going to enjoy and always remember," said Bill Roach, airshow director.
Houston (PRWEB) August 14, 2013
Vintage warplanes, a special Korean War 60th anniversary tribute, a flight performance by the star of Disney's "Planes," the world's only flying B-29 Superfortress, and world-class aerobatic performers are among the highlights of the 29th Annual Wings Over Houston Airshow, which will be held Saturday and Sunday, Oct. 26-27, at Ellington Airport. Wings Over Houston Airshow is a non-profit event produced by the Commemorative Air Force (CAF). Continuous show updates and ticket information are available at http://www.wingsoverhouston.com.
"We had the opportunity to design a very special airshow program this year that our dedicated fans are going to enjoy and always remember," said Bill Roach, airshow director. "Although the Thunderbirds and other military acts are grounded from airshows due to federal government budget cuts, this enabled us to put together a show that includes a tribute to Korean War veterans, a terrific Disney 'Planes' show, amazing aerobatic performances and significantly expanded activities for children. At Wings Over Houston, history comes to life with authentic aircraft demonstrations and re-enactments that honor our military veterans and active-duty service men and women."
Civilian flight demonstrations will include aerial acrobatics by Michael Goulian in the EXTRA 330SC, the world's most high-performance aerobatic airplane. Matt Younkin will perform in a Twin Beech 18, a 70-year homecoming for his plane that was among others built and assigned for pilot training during World War II at then-called Ellington Field. Paul Fiala, a pilot for more than 60 years that included service with the Blue Angels, will bring his Great Lakes biplane performance to Houston. The RE/MAX Skydive Team returns to open the show.
Vintage military flight demonstrations will include a special 60th Anniversary Korean War Tribute presentation; pilot Randy Ball's performance in a MiG-17F fighter jet; FIFI, the world's only flying B-29 Superfortress; the B-24/LB-30 Diamond Lil, one of only two flying "Liberator" bombers; as well as the C-45 Expeditor, Bucket of Bolts. Other flight demonstrations include the Disabled American Veterans' B-25, Special Delivery, a Lockheed T-33 Shooting Star, and U.S. Air Force Heritage Flight showcasing planes from different eras. TORA TORA TORA also returns to the show with its dramatic re-creation of the Japanese attack on Pearl Harbor that signaled the beginning of American involvement in World War II.
Several museums and organizations will display vintage aircraft, some of which they also will fly. The Texas Flying Legends Museum, based at Houston's Ellington Airport, offers a collection that includes a rare and flyable Japanese fighter plane, an A6M2 Model 21 Zero, as well as a B-25J Mitchell Bomber, two P-51D Mustangs, a P-40 Warhawk, and a F4U Corsair. Other organizations participating in this year's show include Lone Star Flight Museum, Lewis Air Legends, Vietnam War Flight Museum and Experimental Aircraft Association.
The CAF's Red Tail Squadron returns to this year's show, showcasing its P-51C Mustang, Tuskegee Airmen, and RISE ABOVE Traveling Exhibit. The educational exhibit tells the Tuskegee Airmen story and how they overcame obstacles to be allowed to train and fight as the first African-American U.S. Army Air Corps pilots. Other highlights include the Legends & Heroes Autograph Tent, interactive NASA display, Neal Darnell and his record-breaking SHOCKWAVE JET TRUCK, and a children's area including a rock climbing wall, a mechanical bull and Aircraft M-4 simulator rides.
Roach said the airshow, made possible by hundreds of volunteers and many generous donors and sponsors, had humble beginnings in 1985 and has grown into a Houston family tradition that also attracts a worldwide audience. Show proceeds benefit the CAF's efforts to restore and maintain historic military aircraft, provide scholarships to aviation students and provide assistance to numerous non-profit organizations in the Houston metro area.
"We also have a very special tradition at Wings Over Houston Airshow that we call the 'Special Show,' which is for lifetime physically challenged young people," said Roach. "We hold the show on the Friday before Airshow weekend for about 5,000 people. The Special Show, which is generously sponsored by the Hugh W. O'Donnell family, is the largest field trip for physically challenged students in this area."
Please visit the show's website, http://www.wingsoverhouston.com, for updated information including performers list, airplane rides, exhibits and activities, ticket information and parking instructions.
Ticket Information
Tickets for the 2013 Wings Over Houston Airshow are on sale now. Tickets are $20 for adults, $4 for children ages 6 through 11 and free for children 5 and under. Reserved "Prime View" seats located at front and center of the flight line are $45 and include reserved parking and an event program. Eagle Squadron Hospitality tickets are $125 and include reserved seating, catered food and beverages throughout the day, reserved parking, souvenir cap, program and poster. Tickets can be purchased by calling 888-4-FLYSHOW or by visiting http://www.wingsoverhouston.com.
Parking Information
Parking at Ellington Airport is extremely limited – riding the free shuttle bus transportation is recommended. Shuttles run from 7:30 a.m. until 6 p.m., with the last shuttle inbound to Ellington Airport departing at 2:30 p.m. Visit http://www.wingsoverhouston.com for Park and Ride locations.
Sponsors
As a non-profit event, Wings Over Houston Airshow relies upon the generosity of sponsors. This year's headline sponsors to date include Bud Light, Texas Bay Area Credit Union, Chrysler, City of Nassau Bay, The Hugh W. O'Donnell Family presenting Special Show for Special People, City of Webster, Kroger, and Coca-Cola of Houston. Organizations interested in sponsoring the show may visit the Sponsorship Opportunities page on the airshow's website, http://www.wingsoverhouston.com.
About Wings Over Houston
Wings Over Houston Airshow is a non-profit 501(c)(3) community event produced by a volunteer effort of the Gulf Coast Wing and Houston Wing of the Commemorative Air Force, with support from the Lone Star Flight Museum in Galveston, Texas Flying Legends Museum in Houston, Vietnam War Flight Museum in Houston, and Lewis Air Legends in San Antonio. The Airshow is dedicated to showcasing vintage World War II aircraft, along with the thrills of modern aviation. One of the top airshows in the United States in its category, the Wings Over Houston Airshow attracts more than 85,000 festival goers throughout the Houston metro area and Texas, as well as from across the United States and around the globe. Wings Over Houston Airshow benefits the community through Wings Over Houston Airshow Scholarship Program, Aviation Career Education Academy, Exchange Club of Sugar Land, Westchase Rotary Club and the Commemorative Air Force aircraft restoration and flying historical programs, in addition to numerous other nonprofit organizations.