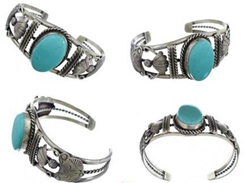 The popularity of turquoise had made its way down from Rodeo Drive to Main Street America.
(PRWEB) August 12, 2013
The cure for the common jewelry blues is here! Blue turquoise is taking the jewelry world by storm. Far from being a new trend, turquoise has deep cultural and spiritual roots in Native American jewelry making. The spell-binding coloration and deep texture in every turquoise stone holds cultural associations with life-giving water and the creative source behind creation.
Today, people are still drawn to the mysterious and inspiring look of this eternal gemstone and the popularity of turquoise is thriving. Native American artisans still rely heavily on the use of turquoise for creating statements with their jewelry, but now even mainstream jewelry designers and fashion labels are getting in on the trend of incorporating turquoise into their themes. A new online resource, TurquoiseSilverRing.com, is celebrating the past, present, and future of turquoise.
"Many people are looking for a turquoise ring," tells Turquoise Silver Ring spokesperson Debra Hastings. According to Hastings, turquoise is becoming the go-to gemstone for everything ranging from engagement rings to cocktail rings. "Some very big A-list stars have shown up on the red carpet sporting turquoise jewelry lately, which has set off the trend," she says. The popularity of turquoise had made its way down from Rodeo Drive to Main Street America.
According to Hastings, who studies trends in the fashion industry, "The fashion world is starting to reject phony-looking costume jewelry in favor of more substantial pieces, and turquoise is the natural choice for a gemstone which is not only stunning, but is ecologically sound."
The fact that turquoise is not a synthetic stone and that it is found in the Earth gives it heirloom value. Turquoise is one of the oldest gem materials discovered by humankind. It is represented in artwork in hundreds of cultures spanning thousands of years. Stylistically speaking, the same turquoise ring worn by queens of the past would be an appropriate fit for a modern woman.
Unlike some other popular gemstones which can appear flimsy, turquoise is the perfect gemstone for a ring centerpiece because it gives depth and weight to a ring. A turquoise stone also has substantial durability and requires very little maintenance in order to retain its brilliance. This makes it an optimum choice for busy women who don't have a lot of time to fuss over their jewelry, but who still want to accessorize with meaningful pieces.
Hastings has noticed certain trends regarding turquoise. "Right now, the jewelry piece in the highest demand is a turquoise ring with silver. The blue shading of the stone paired with the cool tones of the silver creates a spectacularly shiny and vibrant look." When asked if the craze over owning a turquoise ring was set to die down anytime in the near future, Hastings replied, "Any gemstone which has been so highly celebrated for the past thousands of years like turquoise has is not going anywhere. This is an uphill trend, which was started by the kings and emperors of history and is being continued by the Hollywood stars of today."
For more information, please visit TurquoiseSilverRing.com.