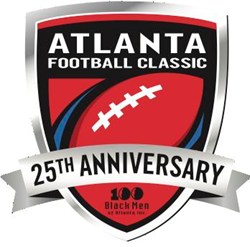 Atlanta (PRWEB) August 13, 2013
The 100 Black Men of Atlanta (http://100blackmen-atlanta.org), a volunteer community organization focused on education, empowerment and enrichment of African-American youth and the presenters of the annual Atlanta Football Classic (AFC), today announced a special new gridiron match-up for its 25th anniversary game: For the first time in AFC history, the North Carolina A&T State University Aggies will face off against the South Carolina State University Bulldogs at the Georgia Dome Saturday, Oct. 5, 2013 at 3:30 p.m.
Tickets for the game, one of the biggest recurring sporting events in Georgia, are on sale now at the Georgia Dome ticket office, http://www.ticketmaster.com and at the participating schools' ticket offices. Ranging from $10 to $50, the affordable ticket prices ensure fans can enjoy the game and memorable musical entertainment with money left over for food and merchandise.
The silver anniversary AFC contest will be telecast nationally on ESPNU, the first time the annual event has been seen on an ESPN network.
The Atlanta Football Classic is also known for its legendary "Battle of the Bands" halftime show and this year promises to deliver one of the best "battles" yet, as two legendary bands North Carolina A&T State's Blue and Gold Marching Machine and South Carolina State' Marching 101 s - make their AFC debuts. Both bands have performed around the world, including performances at conferences, NFL football games, parades, as well as community and university events. The Blue and Gold Marching Machine was recently invited to perform in the Macy's Day Parade in New York City in 2012.
"We are thrilled to welcome two new schools to the Georgia Dome to celebrate the 25th anniversary of the Atlanta Football Classic," said John Grant, CEO, 100 Black Men of Atlanta. "This annual event is the 100 Black Men of Atlanta's largest fundraiser for its mentoring, academic support and scholarship program, Project Success and we have been fortunate to raise millions of dollars for the program and the participating schools over what is now going on 25 years."
Celebrating 25 years of community and tradition, the Atlanta Football Classic will offer a weekend filled with exciting and action-packed activities for everyone from the legendary Parade of Excellence, and the pre-game Fan Fest to the 100 Robotics Showcase and Battle of the Bands halftime show.
The Atlanta Football Classic promises to deliver a captivating football game with both schools being members of the Mid-Eastern Athletic Conference (MEAC) with multiple Black College Football Championship titles on their records. South Carolina State will make its return to the Atlanta Football Classic for the first time since 1995. This will be North Carolina A&T's first appearance in the Atlanta Football Classic.
"For almost 30 years, the 100 Black Men of Atlanta have impacted the community it serves by making the effort to turn young men into strong, productive and upstanding men in society through education, public policy and economic impact," said Earl Hilton, Director of Athletics, North Carolina A&T State University. "The 100 Black Men of Atlanta's outreach to the youth in the Atlanta area is why North Carolina A&T is proud to be a part of the 2013 Atlanta Football Classic in conjunction with South Carolina State University. We are looking forward to seeing two of the MEAC's best fan bases come together to watch what will be a spirited game."
"SC State University is excited and pleased to be participating in this year's Atlanta Football Classic," commented Charlene M. Johnson, Director of Athletics, SC State University. "We are returning to an event and a venue that our fans have enjoyed being a part of in past years and we wish to thank the 100 Black Men of Atlanta for an opportunity to showcase our team and university again."
About the Atlanta Football Classic
First organized by the 100 Black Men of Atlanta in 1989, the Atlanta Football Classic has evolved into the second largest recurring college sporting event in Georgia. Culminating in a sold-out college football game between rival teams, complete with a full marching band showdown, the Classic's week-long agenda of events includes a town hall meeting on African-American health issues; a collegiate symposium; health, financial, job & college fairs; the Parade of Excellence.
Bringing more than 100,000 visitors into the city, the Atlanta Football Classic generates nearly $30 million in Georgia's economy each year and now has a permanent exhibit located in the Georgia Dome commemorating its success. A blue-chip roster of sponsors, including: AT&T, Abbott Laboratories, Atlanta Journal-Constitution, Coke Zero, Coors Light, Delta Air Lines, Georgia Power, The Home Depot, Kia, MARTA, National Guard, McDonalds, Sam's Club, Toshiba, U.S. Army, U.S. Marines, UPS and Walmart to make these events possible.
The Atlanta Football Classic has raised more than $3 million during the past six years to fund the organization's post-secondary preparation and tuition assistance program for at-risk youth, Project Success, and almost $6 million in contributions for the participating universities.
About Project Success
Project Success, created by the 100 Black Men of Atlanta in 1987, helps to prepare Atlanta Public Schools' students to successfully graduate from high school and helps to prepare them for post-secondary education. The mentoring program encourages urban youth to be self-motivated and confident while emphasizing the importance of a strong work ethic. Its long-term goal is to create an educated workforce of well-rounded individuals who understand the importance of giving back to the community. With this successful program as the cornerstone of 100 Black Men of Atlanta's activities, the organization continues to build its portfolio of services to improve the lives of young African Americans. To learn more about Project Success or make a donation visit http://www.100blackmen-atlanta.org.
About 100 Black Men of Atlanta, Inc.
The mission of 100 Black Men of Atlanta, Inc. is to provide support and improve the quality of life for African Americans, particularly African American youth in the Atlanta community. The 100 is one of the city's strongest African American volunteer organizations focused on education, enrichment and empowerment. The organization's community work is performed through its flagship program, Project Success, a mentoring and academic support initiative with the following components: The 100 Academy (Saturday School), Mentoring, the 100 Resource Learning Center (100 RLC), the Collegiate 100, The Best Academy at Benjamin S. Carson, the Project Success Robotics Alliance, Family & Youth Empowerment Programs and Health & Wellness Initiatives. To learn more about Project Success, to volunteer, become a sponsor or make a donation visit http://www.100blackmen-atlanta.org.