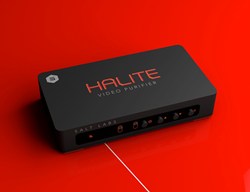 The Halite itself looks great, but what it does to video and images is nothing short of amazing.
Orem, UT (PRWEB) August 13, 2013
Our entertainment has reached an incredible level of realism. However, HD has been out for a while now and many people are wondering if HD is as good as it gets. 4k promises to take things to the next level, but 4k hardware is expensive and content is hard to find. The Halite Video Purifier by Salt Labs promises to provide an affordable and attractive way to enhance videos and images from any source. It will be available early this fall and anyone can pre-order it now at Sewell Direct.
Up until now, video has been enhanced by adding more information into the signal, either by using more pixels or improving color depth and contrast ratios. The Halite goes beyond conventional graphics limitations by using patented DarbeeVision technology to process images and videos the same way the human brain does. The human brain visualizes depth using depth cues, which are the hints that tell your brain when you are seeing something with depth. The Halite enhances these depth cues to enhance the illusion of depth and make scenes much more realistic.
This easy to install, easy to use accessory won't be much bigger than an average smart phone. To install the Halite, it is simply placed in-line between any HDMI source (such as a Blu-Ray player, gaming console, computer, satellite receiver, etc).
Design was an important attribute of the Halite from the beginning. Salt Labs wanted to create a product that looks like it belongs in a home entertainment center, and the Halite delivers. It features clean lines and a smooth satin finish that gives it a high quality look and feel. This is a product users will want to show off, not hide behind their other equipment.
The Halite itself looks great, but what it does to video and images is nothing short of amazing. The depth, texture, and colors achieved by using it need to be seen to be believed. This enhancement is especially noticeable in video games. At times it makes it look like there are higher resolution textures in play, effectively transforming gaming environments.
Salt Labs expects to have the Halite in full production early this fall. For those who want to beat the rush, the Halite is available for pre-order at sewelldirect.com for $295.00.