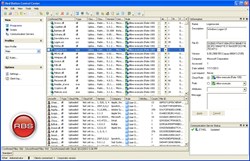 Red Button is the security model of the future.
BOCA RATON, FLORIDA (PRWEB) August 13, 2013
CrossTec Corporation today announced the release of Red Button Process Control v2 from Red Button Systems. Red Button is the newest breed of desktop protection for the enterprise. Red Button offers centralized, robust process control that stops unwanted programs, processes, and DLLs before they start. Red Button v2 now achieves this without the complex and burdensome setup required by other products in this space. According to Stu Sjouwerman, former President of Sunbelt Software, "Red Button is the security model of the future."
Red Button reduces complexity by implementing the Program7 methodology. Unlike first generation white- and black-listing solutions that require complex and cumbersome upfront configurations, Red Button begins a 'self-learning' process on installation and activation. In learning mode, Red Button analyzes the network and begins to build an enterprise-wide profile of processes. This profile is analyzed by the expansive Red Button Process Cloud. Safe processes are allowed, threats are disallowed, and unknown processes are handled automatically.
"Historically, security technologies have reacted to threats, dealing with attacks after the fact," said Jeff Richards, VP at CrossTec Corporation. "This strategy leaves enterprises open to the latest breed of viruses and malware. Red Button prevents the newest zero-day and even zero-hour threats from even starting, all without adding additional workload to already overloaded IT security teams."
Villy Rasmussen, President of Red Button Systems, commented: "At Red Button Systems, we have strived to create a product that ensures strong, ongoing protection against targeted and zero day attacks while remaining simple and easy to use."
For more information on Red Button in the Americas, visit http://www.crosstecsoftware.com.
CrossTec Corporation will be hosting complimentary webinars for organizations and resellers on Process and Application White-listing, including an introduction to Red Button Server, Client, Cloud, and Program7. To register for the webinar, please visit: http://www.crosstecsoftware.com and click on Upcoming Webinars.
In North America, free 30-day evaluations of Red Button can be downloaded at http://www.crosstecsoftware.com/tryit.html, or call CrossTec at (800)675-0729.
About CrossTec Corporation
CrossTec Corporation, headquartered in Boca Raton, FL, has been a leading provider of software solutions for network security, network management, and classroom management since 1996. CrossTec's mission is to empower IT managers by offering a combination of enterprise-tested products, substantial feature sets, superior value, and unparalleled customer service. For more information on CrossTec Corporation or the CrossTec family of products, please visit http://www.CrossTecSoftware.com.