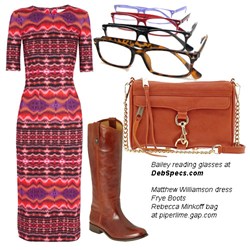 (PRWEB) August 14, 2013
From 1970s- and 80s-inspired punk fashion to city hipster trends, reading eyewear at Debspecs is designed to look cool. With varieties that include wide line reading sunglasses, rectangular glasses, and tortoise frames, Debspecs.com has Fall 2013 eyewear with lots of color and pizzazz, including some of the runway-worthy styles seen during recent International Fall Fashion weeks.
Bailey reading glasses come in colors that are straight out of 80s movies and magazines. Wide frames and lenses make a sleek impression in tortoiseshell , black, shiny red, or lilac-colored frames. Wear them to blend with bold or subtly-colored plaid shirts. They also make a perfect accessory for the business attire featured at high-end department stores for autumn.
This season, designers from Chanel to Alexander Wang feature all shades of gray, from charcoal to slate. The small round frame Picky glasses come in subdued shades that will add the perfect hue to these outfits. The round eye shape fits this crisp palette, and are a stylish choice for those who prefer a mini-size reader or have a narrow face shape.
Reading in the sun just got easier with ultra cool Milky Way embellished-frame reading sunglasses. Dark smoky-color lenses give a rock star effect to pearly white or tortoise brown frames.
Exact glasses have dual-tone frames with exquisite designer style. The rectangular shape features a front of head-turning black, with yellow tortoiseshell-printed stems. ("Stems" refers to the sides of glasses – the part worn over the ears). Exact is one of our most unique reading glasses being shown for Fall 2013!
Shopping for reading glasses at Debspecs.com is easier than ever. Our simple-to-use options let you shop by reading glass strength, allow you to virtually "try on" most glasses, and see our latest high fashion offerings in the What's New section of our website. Debspecs daytime chat reps can quickly answer your questions or concerns about reading glass fit and styles. So here's to Fall fashion and some really great reading – visit Debspecs.com today!