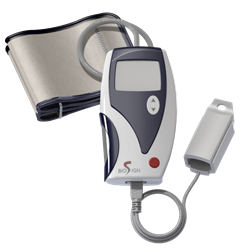 MEDICA 2013 will be the public debut of Pulsewave™ MAX, which can record up to 10 medical measurements at once, and is Biosign's entry in the $10M Qualcomm Tricorder X-Prize competition.
Toronto, Ontario (PRWEB) August 14, 2013
Biosign Technologies Inc. (TSXV: BIO) ("Biosign" or the "Company") will bring two major innovations in patient monitoring when the Company exhibits for the first time at MEDICA, the globe's largest annual medical trade fair. Regarded as the world stage for medical invention, MEDICA 2013 in Dusseldorf Germany, November 20-23 will attract over 4,000 exhibitors from more than 60 countries.
"We are coming to MEDICA because we believe the healthcare world will appreciate the remarkable benefits of the software and hardware patient monitoring solutions we'll be showcasing at the show," says Biosign CEO Robert Kaul. "The first is our feature-rich, workflow-speeding "Healthanywhere™" integrated patient monitoring platform and the second is, perhaps more intriguingly to many, our "Pulsewave™ MAX", a futuristic multi-sensor, cuff-and-monitor device that has been compared to the famous "Tricorder®" on Star Trek."
The Healthanywhere software combines health risk assessment capability via our proprietary "Wellness Module". It includes interactive questionnaires; vital sign gathering that taps a constellation of automated bluetooth medical devices; a clinical portal whereby one practitioner can monitor up to several hundred patient accounts; and integration to "PencilThat" a popular practice management solution by partner ClinicServer, which includes patient records and enables patients to self-schedule via the internet. The result is that practices using Healthanywhere deliver better care, with less work, at lower cost, while dramatically improving outcomes and patient satisfaction.
The patent-pending Pulsewave™ MAX uses four channels of incoming data that simultaneously measure up to 10 biological parameters: heart rate, blood pressure, ECG, body temperature, oxygen saturation, breathing rate, heart rate variability, heart arrhythmia, pulse transit time, and mechanical pulse wave. Data is uploaded to the Cloud where Biosign central servers use proprietary computer algorithms to generate medically accurate results - a process they call Cloud Diagnostics™. A significant technological step up from Biosign's current FDA cleared, Health Canada and CE-mark approved Pulsewave™ monitor, Pulsewave™ MAX anchors Biosign's entry in the $10 million Qualcomm Tricorder X-Prize innovation competition.
To learn more about Biosign's products and services, please visit us during MEDICA at the Ontario/Canada Pavilion, Hall 16, Booth F44.
Biosign CEO Robert Kaul elaborated: "Biosign will exhibit for the first time as part of the Canadian Pavilion, and our presence there is being supported financially by the Ontario & Canadian Governments. Our goal will be to build new distribution relationships for our new flagship products, the Pulsewave MAX and the next iteration of Healthanywhere. Biosign is honored to be chosen to participate as part of Canada's contingent in Dusseldorf."
Biosign Contact Information
Robert Kaul
Chief Executive Officer
Biosign Technologies
Phone: (416) 218-9800 ext. 201
Email: ceo(at)biosign(dot)com
About Biosign Technologies Inc.
Biosign Technologies Inc. (TSXV: BIO) provides automated, software enabled health information solutions including the Pulsewave™ Health Monitor and the Healthanywhere™ Patient monitoring / self-care platform. The Company's Pulsewave™ Health Monitor solution enables Pulse data collection for cardiovascular clinical decision support and self-care, while its Healthanywhere™ solution offers industry-leading remote patient monitoring and patient centred care management. The Company also offers a number of cardiovascular screening programs for consumers under its Heart Friendly™ brand, including Heart Friendly™ Practice, Heart Friendly™ Dentist, and Heart Friendly™ Fitness. For more information on Biosign, please visit http://www.biosign.com .
Forward-Looking Statements
This release contains forward-looking statements. Forward-looking statements, without limitation, may contain the words believes, expects, anticipates, estimates, intends, plans, or similar expressions. Forward-looking statements are not guarantees of future performance. They involve risks, uncertainties and assumptions and Biosign's actual results could differ materially from those anticipated. Forward looking statements are based on the opinions and estimates of management at the date the statements are made, and are subject to a variety of risks and uncertainties and other factors that could cause actual events or results to differ materially from those projected in the forward-looking statements. In the context of any forward-looking information please refer to risk factors detailed in, as well as other information contained in the company's filings with Canadian securities regulators (http://www.sedar.com).
Neither TSX Venture Exchange nor its Regulation Services Provider (as that term is defined in policies of the TSX Venture Exchange) accepts responsibility for the adequacy or accuracy of this release.