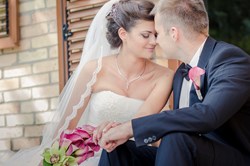 Nearly half of those surveyed say $2,500 and less is an appropriate amount to spend on an engagement ring in 2013.
Los Angeles, CA (PRWEB) August 13, 2013
BluePromoCode.com, a leading marketplace for coupons and deals, today announced the results of a recent study correlating consumer shopping trends among modern couples.
Based on a recent U.S.-based survey of married couples under the age of 35, the findings concluded the following:

45% say $2,500 is the maximum appropriate amount to spend for an engagement ring
38% would spend less than $10,000 for their wedding
Target and Bed, Bath, & Beyond are by far the most popular wedding registries
Only 30% of married couples created their own wedding website
Women would much prefer to get married in a church, but to ATTEND a wedding on a beach
Other results showed that men and women have strong differences in where they plan to spend their wedding cash. Men were most likely to save or pay down debt while women were most likely to use it for the honeymoon. Women also preferred to have their wedding in a church, yet if they were to attend a wedding they preferred to be on a beach.
Overall, the numbers are trending much lower than those in 2012, based on the annual Real Weddings Study. This suggest even more conservative spending habits among modern couples, one where coupons and online promo codes will play an even larger role moving forward.
"Couples often overpay for their weddings," said Michael Quoc, CEO of BluePromoCode. "Our coupon service enables them to uncover discounts on the brands they love without having to comprise or sacrifice on the quality of what they want."
The full study can be found at reports.bluepromocode.com. For the latest wedding coupons at shops such as The Knot, Wedding Channel, Target, eWedding, American Bridal, and more go to http://www.bluepromocode.com.
About BluePromoCode.com
BluePromoCode, based in Los Angeles, is a leading coupon search engine used by millions of consumers to help them save the most money on their purchases. The website partners with 12,000 retailers to bring over 100,000 coupons to its users and its editors hand-check coupon codes to ensure the highest quality ones rise to the top. BluePromoCode also offers personalized emails so members can receive the best deals for the brands they love directly in their inbox. Learn more at bluepromocode.com.
Survey Methodology
In July 2013, Zipfworks commissioned a study to analyze consumer trends and shopping behavior for weddings. Zipfworks surveyed 100 U.S.-based consumers who are married and under 35 years old in a quantitative study with SurveyMonkey. Questions were randomized and related to their specific spending and interest habits for weddings and weddings-related services. Participants were provided gift cards and other non-cash incentives for their participation.
Bluepromocode.com is a registered domain of Zipfworks LLC. All other domains, names and trademarks mentioned herein are property of their respective owners.