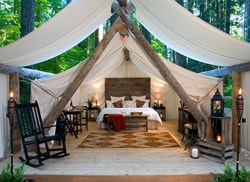 (PRWEB) August 13, 2013
On June 27, 2013, Glamping Hub CEO, David Troya, stepped onto the stage to give his final pitch at the StartUp Chile program in Santiago. Nearly 1,000 observers, including entrepreneurs, investors and a blend of local and international business people, crowded in to the auditorium to listen to the program's most successful participants talk passionately about their budding businesses one last time. This was Demo Day, one of the most important entrepreneurial events in Chile, and it was as a result of this forum that Glamping Hub was named "Startup with the most progress" in the StartUp Chile accelerator program. Now, just a couple of weeks later, it is clear that StartUp Chile's impact on Glamping Hub has been, and will continue to be, considerable.
About 10 months ago, Glamping Hub was awarded a coveted spot in the prestigious StartUp Chile program. David traveled to Santiago on behalf of the company after the New Year and spent the next six months working tirelessly to take advantage of the abundance of training sessions, networking events, investor meetings, and business tools made available by the program, as well as making efficient use of the $40K that each participating company receives.
Glamping Hub quickly became one of the hottest startups in the program and attracted the attention of several individual and group investors. But the most noteworthy result of StartUp Chile's resources and David's efforts is the company's staggering growth.
"Since day one of the StartUp Chile program, consumer interest in Glamping Hub has grown 25% each month. It is a huge success, not just for us, but for the program as well," says David. It positively reinforces the fact that startup accelerators and incubators do work and, if utilized in the right way, can significantly elevate new businesses.
GlampingHub.com now enjoys more than 70,000 visits each month, as opposed to just 13,000 in December, 2012. The accommodation inventory on the site has also grown significantly, doubling in size since December from 300 to 600, and the platform now offers more luxury camping and alternative accommodation options than any other online travel company.
StartUp Chile helped to deliver an enormous kick start to Glamping Hub and provided a collection of essential business tools, investment resources and networks that the company will be able to take with it as it continues to rise in the industry.
About Glamping Hub
Launched in 2012, Glamping Hub is the world's first online booking platform offering luxury camping and alternative accommodations on all 5 continents. With over 600 unique glamping sites in 57 countries, and a vast range of prices and amenities, Glamping Hub connects travelers with nature in a whole new way, providing off-the-grid, sustainable and truly one-of-a-kind lodging and outdoor adventure in some of the most breathtaking landscapes on earth. For more information, please visit glampinghub.com.