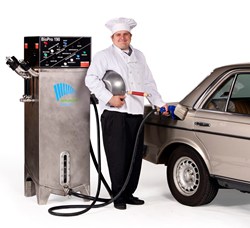 Los Angeles, CA. (PRWEB) August 14, 2013
Springboard Biodiesel, a leading supplier of small-scale biodiesel processing appliances, announced it will further incent restaurateurs at the Western Foodservice and Hospitality Show to 'do the right thing,' by selling their award-winning appliances to show attendees at a $1,000 discount.
Springboard's BioPro™ line of biodiesel processors enable anyone with access to free used cooking oil (i.e. restaurant owners) to convert their used cooking oil into premium grade biodiesel fuel for 95 cents per gallon.
"The BioPro™ is as easy to operate as a washing machine," says Springboard CEO Mark Roberts. "All an operator needs to do is load it up and turn it on. The BioPro™ does the rest."
Biodiesel fuel is a globally traded commodity that currently sells for close to $5.00 per gallon in California. By eliminating overhead costs and making biodiesel in an automated appliance, an operator has the opportunity to make this same fuel for 1/5th of the cost.
Biodiesel will run in any diesel engine, neat or mixed with diesel at any ratio. No conversion is required to the diesel engines that burn it.
More progressive restaurateurs will also be happy to discover that biodiesel made from used cooking oil emits 90% less CO2 and approximately 50% less particulate matter.
Roberts adds, "The ROI on this equipment is incredibly fast, and we've made every part of this process, from financing to fueling, as easy as possible."
Springboard currently has BioPro™ units in operation in 14 countries and in all 50 states.
The Western Foodservice and Hospitality show runs August 18-20 at the LA Convention Center and will showcase some of the world's most cutting edge restaurant equipment. Springboard's equipment can be found at Booth # 335.
Springboard Biodiesel is a clean-tech manufacturer that makes and sells automated biodiesel processing equipment and accessories. The BioPro™ line of biodiesel processing appliances enable any business or institution with access to used cooking oil to convert that oil into premium-grade biodiesel for less than $1.00/gallon. Biodiesel is a clean-burning, renewable fuel that will run in any diesel engine.
Springboard Biodiesel Contact Information:
Matthew Roberts
VP Marketing
info(at)springboardbiodiesel(dot)com
530 894 1793