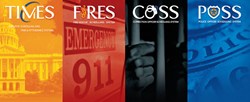 Our main goal has always been to build a strong foundation with our loyal customers
Freehold, NJ (PRWEB) August 13, 2013
Visual Computer Solutions (VCS), the leading provider of scheduling and time & attendance software for the public safety and governmental arenas, announced today the acquisition of the Hale Ho`omalu Juvenile Detention Facility as a new client. VCS currently serves more than 300 agencies in law enforcement, corrections, fire, and municipal government across the United States. Hale Ho`omalu marks Visual Computer Solution's first client in the Hawaiian Islands. The acquisition speaks to the company's ability to manage client needs from any distance and its positive reputation throughout the nation.
"We have become a trusted provider of scheduling software. After 15 years of serving the law enforcement industry our reputation precedes us. We receive a large portion of our business from referrals. Our main goal has always been to build a strong foundation with our loyal customers and that has paid off tremendously," said Guy DiMemmo, President and CEO of Visual Computer Solutions.
Hale Ho`omalu will use Visual Computer Solution's Correction Officer Scheduling System – also known as COSS - to streamline their time and attendance. The COSS software has been designed for the sole purpose of managing the laborious workforce processes encountered by correctional agency and jail management personnel on a daily basis. It is one of Visual Computer Solution's many software solutions. Each VCS software solution is tailored to the specific needs of different sectors of public safety and government.
Throughout its relatively short time in business, VCS has seen tremendous success and plans to expand in the near future not only to new regions but industries as well, including medical. Visual Computer Solutions is known across the country for its attentive customer service team and effective software solutions.
About Visual Computer Solutions:
Since 1998, Visual Computer Solutions (VCS) has built and sustained long-term alliances with Police Departments, Municipalities, Correctional Agencies, Fire-Rescue Organizations throughout North America by providing progressive employee management systems for scheduling, time and attendance, biometric identification, and emergency response notification procedures. A privately held company, VCS' philosophy for software design is to pair the most talented software engineers with current Public Safety Administrators and Leaders, in the interest of developing authentic software solutions that address the real needs of law enforcement time and attendance requirements.
About Hale Ho`omalu Juvenile Detention Center:
The Hale Ho`omalu Juvenile Detention Facility is a 24-hour secure facility. At the facility, a team of juvenile detention staff, cooks, probation officers, and a nurse provide educational, recreational, health, guidance, and diagnostic services to juveniles who require temporary secure custody.