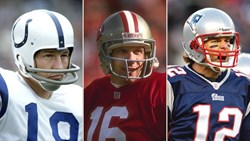 Three rings, two MVPs, and a butt load of records. What else does Brady have to do to be better than Manning?
Los Angeles, CA (PRWEB) August 13, 2013
Joe Montana has been named the greatest quarterback in NFL history, ahead of current stars Peyton Manning and Tom Brady, according to a recent poll by Ranker.com. The popular rankings site reached this verdict after collecting the aggregated opinion of over 8,600 voters on the topic of "The Best Quarterbacks of All Time."
The top 10 varies from active players such as Tom Brady all the way back to 1956 with Johnny Unitas. Championships are not the sole decider of greatness. Dan Marino, who never won a Super Bowl, checks in at number 4 above many trophy-wielding QBs.
The Top 10 Greatest Quarterbacks Are:
1. Joe Montana
2. Peyton Manning
3. Tom Brady
4. Dan Marino
5. John Elway
6. Johnny Unitas
7. Steve Young
8. Brett Favre
9. Roger Staubach
10. Terry Bradshaw
Former Bostonian and avid football fan EJ Linehan agrees with every aspect of the list but one. Says EJ, "Three rings, two MVPs, and a butt load of records. What else does Brady have to do to be better than Manning?"
See the full list of The Best Quarterbacks of All Time, as well as 1000s of other opinion-based lists, at Ranker.com
About Ranker
Ranker is a crowdsourced platform that consumers visit over 9 million times a month to view, rank, and vote on broad opinion-based questions ranging from the best candy ever made to TV shows cancelled before their time. With "The Best Quarterbacks of All Time" and other lists, Ranker hopes to provide the best possible answer to any question that can be answered in list form. These answers can inform consumers' decisions, influence business choices or stoke an old-fashioned debate. Ranker is backed by Draper Associates, Rincon Venture Partners, Siemer Ventures, Data Collective, Gil Elbaz, Tech Coast Angels and Pasadena Angels