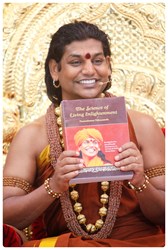 LIFE is for Others.
Los Angeles, CA (PRWEB) August 13, 2013
The much-awaited book 'The Science of Living Enlightenment' which is the essence of his teachings on the principles of life, was released last month worldwide and is already having popular demand.
This book clearly sets down the scientific steps to Enlightenment. As the cover page says, in this book, His Holiness Paramahamsa Nithyananda reveals four powerful principles that empowers one to manifest one's ultimate Reality. When these principles flood the body, mind and spirit, one is easily established in the Science of Living Enlightenment - the Science of Life that makes 'Impossible' into 'I-Am-Possible'!
The theory of evolution formulates the progression of life form from a bacteria to a mammal, from a primate to a human being. But, the Science of Living Enlightenment inspires and provides a formula to evolve and transform from a human being into a divine being. In the first of the five sections, this books first expands the mental zone of the reader from a limited cognition of the life of human experience bound by logical conditioning to the expanded zone of spiritual realm. In the second and third section, the reader is elevated from the zone of limited perception of time to an expanded perception of space beyond time so that one can own and control the reality they create. The final 2 two sections of the book explain the science of kundalini awakening and sharing the powers of offering his own body-mind system for observation, His Holiness Paramahamsa Nithyananda has been working with doctors and scientists across the world to record and analyze mystic phenomena using modern technology. The results continue to intrigue the world of medical science. In this book, the Science of Living Enlightenment, Paramahamsa Nithyananda, lays out a number of scientifically proven processes that will clear one's bio-memory and walk them through the appropriate steps to enlightenment.
"The Science of Living Enlightenment" is available for order online along with over 250 publications written by Paramahmsa Nithyananda at http://www.nithyanandagalleria.com .
About His Holiness Paramahamsa Nithyananda:
His Holiness Paramahamsa Nithyananda revered as a living divine incarnation by millions worldwide, is the 44th pontiff of the Mahanirvani Peetha, the most ancient apex body of Hinduism, as well as the 293rd pontiff of the Madurai Adheenam, the oldest monastery. He is the most watched spiritual teacher on YouTube with over 16 million views, and the author of more than 200 books published in 26 global languages. His talks are telecast live everyday on multiple international television channels, two way video conferencing and Internet. Nithyananda has been named among the world's top 100 most spiritually influential personalities of 2012. He is a world-renowned spiritual healer as well as scientist who has successfully demystified the yogic sciences like kundalini awakening, levitation, materialization, anti-ageing, etc.