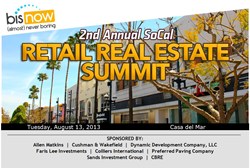 "Opportunity has returned to the Commercial Real Estate Market" Damon Porter, CEO, Dynamic Development Company, LLC.
Santa Monica, California (PRWEB) August 12, 2013
Damon Porter, CEO of Dynamic Development Company, along with other all-star panelists will Speak at the 2nd annual Southern California Retail Real Estate Summit from 8:00 am. – 11:00a.m., August 13th at The Hotel Casa Del Mar 1910 Ocean Way, Santa Monica, CA 90405.
During this power event, there will be breakfast and networking from 8:00 am-9:00 am, followed by the panel discussion on Capital Markets and Retail Development with a Post-Game Networking to follow. With retail development on the rebound in Southern California and leasing activity at healthy levels, the outlook for the sector looks bright.
Damon Porter of Dynamic Development Company and other industry experts will tackle several key issues, including: the state of investment activity, the appetite of REITs, shopping center activity as it relates to expectations, who is growing and expanding, what retailers are doing to combat the growing ease of online shopping, and the neighborhoods/submarkets that are showing growth.
"Opportunity has returned to the commercial real estate market. As retailers have bounced back from the recession lows, they are implementing exciting new strategic expansion plans, while record low lending rates are making development feasible. We are excited about being a niche player in this market, handling all aspects of development from site location through acquisition, design, entitlement, and construction." Damon Porter, CEO of Dynamic Development Company said.
To register for this event, contact Bisnow at 202-293-0370 or visit http://www.cvent.com/events/2nd-annual-socal-retail-summit/event-summary-b43be41c6a884811be531dba1a61f9dd.aspx .
Based in Santa Monica, California, Dynamic Development Company, is a full-service real estate development firm dedicated to managing the entire development process from concept through completion. Dynamic specializes in the development and construction of custom-built commercial projects from general retail to land development. Dynamics clients consist of Dollar General, Vallarta Supermarkets and 7-Eleven to name a few.
D. Michael Morris Jr.
Director of Business Development
Dynamic Development Company, LLC
310-315-5411 ext 113
Mobile-323-365-0001
[email protected]