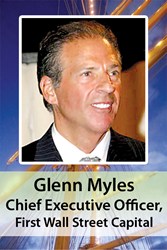 The collaboration between Myles and Milken will not end with this event. Visionary entrepreneurs, they bring the same passion to their philanthropic causes as they do to business.
New York City, New York (PRWEB) August 14, 2013
Glenn Myles, philanthropist-financier-entrepreneur and CEO of First Wall Street Capital, an independent global investment firm based in New York City, has teamed up with fellow mogul Michael Milken, the force behind the Prostate Cancer Foundation (PCF), for a charity event of a different kind.
Cancer survivors themselves, Myles and his friend Milken are partnering to put on this fundraiser in support of others who are fighting the disease.
"Being a cancer survivor myself, I can only give back what I received - the hope for a new lease on life," Myles says. "Mike's foundation, which has raised $10 billion for all kinds of cancer research, not just prostate, multiplies the opportunity to help people and magnifies the reach. We'll be satisfied even if we touch only one life, as that one person is someone's loved one."
Myles and Milken are being supported by billionaire friends David Koch, Leon Black, Richard LeFrak and Dick Merkin, among others.
Glenn believes that it's not the money, but what you do with it, that counts in this world. "My grandmother would say: If you have your health you have everything," he notes. "How much would you pay to expand your life expectancy and that of your loved ones?"
Of his friends who are supporting him in this event, Glenn says, "David Koch is and always has been very generous with his time, money and efforts in support of a multiplicity of causes. Prostate cancer has been a cause very near and dear to his heart, because like me and Mike, he too has been affected by prostate cancer."
Everyone supporting them in this cause has a personal stake in it. One member of the organizing committee of this event, crowdfunding pioneer and CEO of Crowd Alliance Bruce Lipnick, has been a good friend for 20+ years.
The collaboration between Myles and Milken will not end with this event. Visionary entrepreneurs, they bring the same passion to their philanthropic causes as they do to business. Next they will look toward the younger generation; they believe that by making 20- and 30-somethings more aware of potential cancer triggers, they can make a dent in cancer rates in generations to come.
Myles's advice to aspiring entrepreneurs is to "know that you can make a difference no matter how the odds may be stacked against you. When faced with major decisions, turn off the noise. Focus without opinion and distraction from outside forces. Then look for the path; if you cannot see a mentally clear path to your goal, you cannot possibly find it. Lastly, throw yourself into your work and allow your passion to lead you. Without passion, there is no energy, and without energy nothing happens. You need to be the catalyst...the igniter. You need to start the fire. If you look to have ALL the answers before you begin, you will NEVER begin. Start the journey. The items you need, the details, will present themselves. Even today, we do not have all the details worked out for the event. But the end product will be successful."
The biggest takeaway for him from this event, he says, is that "we all will be affected by cancer in our lifetimes, in one way or another; it can be ourselves, a family member or a friend. It doesn't matter if we are a mechanic or the President of the United States, the common denominator in every one of us is life and death. And when we come face-to-face with our mortality, choices and decisions become crystal clear. Zero in on the essentials in life: Faith. Family. Purpose. Our gratitude fuels our efforts to help others traverse the same road with the same hope and determination."
Every dollar counts as the foundation helps speed up the pace and quality of research, and creates educational programs that raise awareness and prevention. Now in its 10th year, PCF has become the leading philanthropic organization in cancer research funding, with over $10 billion poured into 1,600 programs in 200 centers in 17 countries. Myles considers it a gift and a privilege to now have the energy and strength to encourage others taking the same journey with their families.
About First Wall Street Capital (http://www.firstwallst.com)
A Boutique Merchant Bank With A Global Reach
First Wall Street Capital (FWS) is managed by experienced and highly qualified professionals who have been involved as a principals, investors, and advisors on over $24 Billion in transactions across a variety of industries over the last 25+ years. Founded by Glenn Myles, the firm has built a reputation for delivering significant and unique value to investment opportunities. We have a long record of success, bringing solutions across a variety of challenging projects, sectors, and stages – often delivering results using out-of-the-box approaches after others have failed.
About Crowd Alliance (http://www.crowdalliance.co)
Crowdalliance.co is a Crowdfunding platform that brings together Investors and entrepreneurs to help emerging companies obtain new sources of capital, nurturing, growth and new job creation. The company is focusing on Real Estate, Media & Entertainment, Healthcare/Wellness, and Technology. Crowd Alliance is an affiliate of Asset Alliance.
MEDIA Contact:
The Soho Loft (http://www.thesoholoft.com)
The Soho Loft is an event-driven financial media company - your global communications partner.
For press inquiries, contact carmen.campo@thesoholoft.com or + 212.845.9652