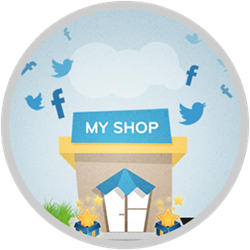 If you won a free coffee this morning, how long would it take you to tell a co-worker? Not long, right?
Campbell, CA (PRWEB) August 13, 2013
Running a sweepstakes is a popular way for businesses to draw attention to new products and services. From the business card in a fishbowl to Fortune 500 Monopoly, sweepstakes clear old inventory and gain the loyalty of a lucky few. However, running a sweepstakes, tracking winners, and delivering prizes is often far too complex for smaller business owners to manage.
PrizeBox™ is the marketing company located in Campbell, California that enables businesses to publish prizes, samples, and coupons to a growing network of customers with a simple do-it-yourself toolkit. On the surface PrizeBox™ is simple: create simple campaigns that offer randomized daily rewards to visitors and a grand prize to one lucky monthly winner. Beneath the surface, PrizeBox™ is a multi-faceted social media marketing engine that helps small businesses expand their reach to Facebook, Twitter -- and ultimately spark word-of-mouth and peer-to-peer engagement.
PrizeBox™ accomplishes this by creating a claim component that requires a winner to share with friends in order to win. In the words of company co-founder and CEO, James Parks: "If you won a free coffee this morning, how long would it take you to tell a co-worker? Not long, right? That's what makes winning powerful. Now, couple that with a Facebook status or Tweet -- If I'm a small business, now I'm really reaching who I want to -- my customer's, pals."
PrizeBox™ is scratching its head as to why more companies are not innovating the sweepstakes or integrating more social media solutions with IRL (in real life) marketing efforts. In any case, small businesses now have the ability to reach out to customers through social media using a different, exciting, and trackable solution to generate new customers while empowering existing ones.
PrizeBox™ unveiled their new website to empower businesses with more information as to how they can improve their social brand. Their team includes a humorous (but effective) video breakdown that covers the product at a level in which a 5-year-old would understand. And how do you reach a 5-year-old? With puppets, of course.