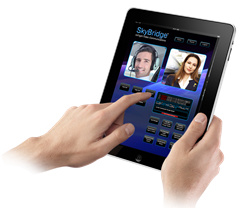 "An innovation like SkyBridge™ InFlight Video Communications is long overdue for flight attendants; they are the first responders for passengers, inflight medical emergencies and homeland security" –
New York, New York (PRWEB) August 13, 2013
InFlight Labs, LLC announced today they will introduce a new proprietary product – SkyBridge™ InFlight Video Communications – which is scheduled for release in the third quarter of 2013.
The SkyBridge™ InFlight Video Communications consists of a custom-engineered software application, which will provide next generation audio/video communications for routine flight attendant-to-pilot communication and flight attendant-to-air traffic control during inflight emergencies via iPads and discreet iPhone/Smart devices throughout the aircraft and to the ground over aircraft Wi-Fi systems.
With SkyBridge™ InFlight Video Communications, flight attendants, pilots and air traffic controllers can participate in face-to-face communications for the first time in the history of aviation, adding a new dimension of safety, security and advancement for the flight deck, cabin crew and passengers.
SkyBridge™ leverages InFlight Lab's InFlight 911 emergency technologies, which was a nominated for the "2013 Safety Leadership of Year" by the Air Traffic Control Global community. InFlight 911 Services offer flight personnel a "One Touch" GPS-based 911 alert to 100 "+" government such as FAA, FBI, CIA, TSA and emergency personnel within seconds of a crisis. Immediately following the GPS-based message, 2-way audio/video communication, and advanced speech-to-text messaging (2,000 characters per text) are established between the aircraft and key authorities over the SkyBridge™ InFlight Video interface. All SkyBridge™ Emergency Communications activity is recorded and time-stamped, ensuring accountability.
"An innovation like SkyBridge™ InFlight Video Communications is long overdue for flight attendants; they are the first responders for passengers, inflight medical emergencies and homeland security" – they need cutting edge technology for improved workplace safety, aircraft-wide security and real-time air-to-ground communication to get that job done efficiently" says Jay Bekanich, company Spokesperson.
InFlight Labs, LLC: InFlight Labs, LLC is a privately held company with offices in Manhattan, NY, and Los Gatos, CA. The company offers the Leading InFlight 911 Service for aircraft and is a finalist for the "2013 Safety Leadership of the Year" - Excellence Awards by Air Traffic Control Global and Air Traffic Management Magazine. For more information please visit: http://www.InFlightLabs.com. Dr. Samuel Joseph - J. Bekanich(Bekanich) – Jillian Perry