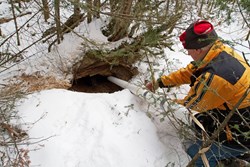 Dr. Goodall's groundbreaking research methods have been similarly scrutinized and her study, like ours, has been recognized as one of the four major studies of large mammals in the world.
Ely, MN (PRWEB) August 13, 2013
Renowned primatologist Jane Goodall has written Minnesota Governor Mark Dayton saying it would be a "scientific tragedy" if the nearly fifty year Wildlife Research Institute study on black bears is shut down by the state Department of Natural Resources.
In the letter, the internationally respected chimpanzee researcher compares her work to Dr. Lynn Rogers, the founder of the Ely-based WRI and North American Bear Center.
"We're grateful for Dr. Goodall's support at this time of crisis," said Rogers.
The letter comes after a court injunction stopped the DNR from pulling the research permit while an administrative judge reviews the case.
Citing safety and other concerns, the DNR is determined to end Rogers' research which has been called the longest comprehensive study ever conducted on black bears.
A meeting with the governor failed to resolve the dispute in July.
Under the temporary agreement, radio collars are allowed on the current 10 bears, but live den cams are banned on the Internet.
Tens of thousands of people around the world have gotten to know the research bears since a bear named Lily gave birth to Hope on January 22, 2010 live via webcam. Over 500 classrooms are among the viewers.
Dr. Goodall's letter:
Dear Governor Dayton,
I have known Dr. Lynn Rogers and his work with black bears for many years. His is one of those rare long term studies where each successive year makes the whole that much more valuable.
Like chimpanzees, bears are long lived individuals, each with his and her own personality. Long term research in which individuals are known allows one to ask questions that are not possible in short term or ecological studies. I believe it would be a scientific tragedy if this research, conducted by a scientist who truly cares about his subjects, is brought to an untimely close.
Research on the Gombe chimpanzees is now in its 54th year, and we are still learning completely new things. Just as Dr. Rogers and his team are still learning new things about the bears. I very much hope that the plan of closing down this research can be dropped. Science will not benefit else, nor will the bears.
Sincerely,
Jane Goodall Ph.D., DBE
Founder – the Jane Goodall Institute
UN Messenger of Peace
Dr. Goodall joins other globally known researchers supporting the work of Dr. Rogers and fellow biologist Sue Mansfield.
"This is the most important study ever done in the world about bears because it so well documents better and safe ways that we can live with bears," said Charlie Russell, the Canadian naturalist famous for his study of grizzly bears.
"If we build trust with these wonderful animals instead of distrust, we do not have to fear bears the way we are told by far too many bear professionals, who are paid to tell you the truth but either do not or cannot."
The outpouring of support for the WRI research continues to grow. A legal fund has reached over $48,000. Thousands of people continue to sign petitions and write government officials and the media. Volunteers have created a website that is generating yet more international attention: http://www.FriendsofWRI.com
"Dr. Goodall's groundbreaking research methods have been similarly scrutinized and her study, like ours, has been recognized as one of the four major studies of large mammals in the world." Rogers said. "Her support means a lot to us."
For more information:
Daily updates: Wildlife Research Institute: http://www.bearstudy.org
Videos available at: http://www.youtube.com/bearstudy
WRI Legal Fund: http://www.bearstudy.org/website/index.php
WRI lawsuit: Rogers v MN DNR (#62-CV-13-5408): http://www.bearstudy.org/website/images/stories/Documents/2013_07_23_Summons_and_Complaint_Rogers_v_MN_DNR-c.pdf
Friends of the WRI on Facebook: https://www.facebook.com/FriendsofWRI
North American Bear Center: http://www.bear.org
Additional information, contact:
WRI/NABC Media Relations Director Bev Hauptli: MediaRelations(at)bear(dot)org