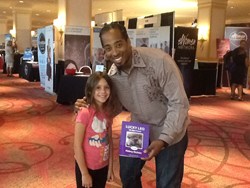 (PRWEB) August 14, 2013
A 9-year-old girl, Abbey Richter, wants the whole world to know the story of her dog, Leo, who had an unfortunate encounter and as she explains it in her book, "Lucky Leo," the encounter was "scary-sad." Little did Abbey know that her story would capture many hearts, making her the #1 Best seller on Amazon's Kindle store in less than a week of the actual publication.
Abbey also received many 5 star reviews!
KPIX 5 (CBS) featured Abbey in a story; video available here: http://sanfrancisco.cbslocal.com/video/9157515-bay-area-girls-book-about-her-pet-dog-an-amazon-bestseller/
Abbey Richter became a #1 Best Seller, see attached screenshot.
The Pet Concierge is a proud publisher of Abbey's story and made it their goal to spread the word about Abbey's book in order to inspire children to take the best care of their pets.
"We are thrilled to share this incredible story about a girl who loves her dog no matter what." – Lee Richter, CEO of The Pet Concierge.
About Abbey Richter: http://www.AbbeyRichter.com
About The Pet Concierge:
The Pet Concierge supports authors who have a passion for pets and they share their love for pets through stories and pictures.
Contact:
Lee Richter, CEO
Richter Communications & Design Group
510-599-8584
Lee(at)RichterDesignGroup(dot)com