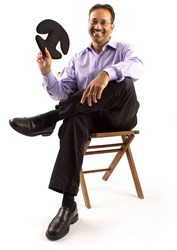 The NapAnywhere was designed with travelers in mind.
Hampton Roads, Va. (PRWEB) August 13, 2013
The revolutionary NapAnywhere gained $68,000 in pledges during a 30-day Kickstarter.com campaign, exceeding a fundraising goal of $40,000. More than 1,200 people backed the project on Kickstarter, establishing the NapAnywhere as the newest must-have travel accessory.
The product's inventor, Ravi Shamaiengar, M.D., a diagnostic radiologist practicing in Williamsburg, Va., says the idea for the NapAnywhere originated four years ago after he fell asleep on a flight and woke up with neck pain.
An owner of several U-shaped neck pillows, he was frustrated by their general lack of support and bulky shape. Using his expertise in human anatomy, Dr. Shamaiengar took on the challenge of creating a portable neck pillow that could make sleeping in an upright position actually comfortable.
"The NapAnywhere was designed with travelers in mind," explains Dr. Shamaiengar. "It is supportive and comfortable, yet lightweight and portable, and can provide a custom fit for each user. "Once it's on, you barely know it's there."
Since the Kickstarter.com campaign ended July 25, NapAnywhere has been featured on NPR.org (as their Weekly Innovation) and various technology and travel blogs.
"We've had an overwhelmingly positive response to the NapAnywhere," says Dr. Shamaiengar. "This product has the ability to help a lot of people."
NapAnywhere is available for pre-order at NapAnywhere.net and is expected to be one of the most sought-after new products on the market this coming holiday season.
###
Learn more about NapAnywhere and watch a video demo by visiting http://www.NapAnywhere.net.
To request an interview with Dr. Shamaiengar, e-mail ravi(at)napanywhere(dot)net.
High-resolution photos and video footage available upon request.