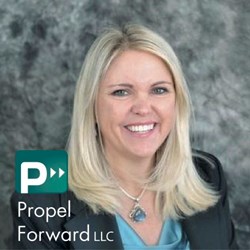 Whom you select as your successor is part of the legacy you leave behind
Chicago, IL (PRWEB) August 13, 2013
When it is time to exit, owners and CEOs worry about the legacy they leave behind. Executives often forget that whom they select to succeed them is part of that legacy. Did the executive care enough about the business and employees to select a respected candidate? Did they do enough preparation to make the adjustment smooth for employees and key stakeholders? Does the person have the skills needed to take the business to the future? People tend to remember most the last thing you did for them. Carlann Fergusson, owner of Propel Forward LLC has compiled five tips from her work with both small and large business CEOs:
1. Start Early: Owners may be familiar with the significant financial advantages of starting their exit plan 3-5 years in advance, but for any company, there are also indirect financial advantages to having a future CEO that has earned investors' confidence and support. There are also development advantages to starting early. Replacements need to learn the breadth of the business in enough detail to understand what it takes to adjust key levers for growth as well as where potential risks lie. They need time to build strong relationships with key external contacts so that the hand-off appears seamless. Starting early enables CEOs to gradually turn more responsibility over to their successor while still being in the wings for guidance.
2. Don't Play Favorites: When it comes to identifying successors, take time to do an objective evaluation of who will make the business most successful. For owners who are expecting to receive buy-out payments from the successor, or whose name and reputation are attached to the business, this is even more important. Too many times CEO's use non-objective measures to select their successor: the oldest child, the most senior leader, or the person who appears to think exactly as they do. These may not be the people with the knowledge, capability and respect within the organization to take it into the next decade.
3. Assess to the Future Needs: Assessing to current business needs is a common mistake in any succession planning discussion. For key positions, determine the trends that are impacting the business and what knowledge, skills or abilities are going to be needed. For example, the current owner may not be e-commerce savvy but to continue growing the business the next CEO has to be.
4. Don't Forget the Essentials: When assessing the next leader, make certain that their behaviors demonstrate the core competencies and values required for a CEO. Propel Forward uses two key tools based off of 30 years of experience and research. These help leaders remove biases and quickly assess their leaders' strengths and gaps. Results are then coupled with future job specific needs to plan practical on-the-job development and other needed support.
5. Splitting the Job Takes Planning Too: If the executive wants to split the job between two people, for example creating a CEO and President, it's going to take additional planning to ensure this partnership runs smoothly. They won't be successful if they are focused on the same things and employees will play one against the other if roles and decision making authority isn't crystal clear.
To leave a lasting impression and ensure the business is in great hands, consider your entire exit plan including your succession plan.
To compliment our direct consulting services, Propel Forward LLC partners with a team of EXIT professionals who offer a one-stop, holistic, approach to exit planning. The combined scope includes strategy, business and personal financials, selling options, legal issues, taxation and people transitions. Propel Forward LLC's clients include Fortune 500 companies, privately held companies, family owned businesses and non-profits. Carlann Fergusson can be reached at carlann(at)propelforward(dot)com or http://www.propelforward.com.