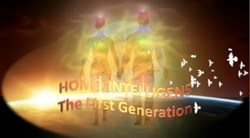 A brand new species of humans - the Homo Inteligens is set to walk the face of this planet on July 28th 2014 and you are its first generation.
Carlsbad, CA (PRWEB) August 14, 2013
Pulp Fiction or Futuristic Reality Prediction?
ICREATE Technologies, LLC announces the production launch of an ambitious and controversial documentary film, "Homo Intelligens - The First Generation" scheduled for worldwide release on November 11th 2013.
The documentary announces the imminent evolution of humans from Homo Sapiens (or Wise Humans) into the new species - Homo Intelligens (or Intelligent Humans) on July 28th 2014 who would announce the start of World Peace One, on the 100th anniversary of the start of World War One.
The documentary carries a message of challenge for all nations engaged in political, social or constitutional conflict to announce a ceasefire on that day. With world peace being instituted, the new species of Homo Intelligens would focus much needed resources to restore the rapidly degrading life support systems of our planet and implement several futuristic initiatives and innovations to enhance the quality of life of every man, woman and child alive.
"Our political, social and economic systems today have not fundamentally changed for the past 5000 years of recorded human history, which is why they are impotent to save life on this planet from extinction," says first time independent film Director, Joy Ghosh. "This documentary will challenge each one of us not only to think outside the proverbial box but re-define that box under new paradigms of peace, prosperity, health and global symbiotic collaboration for collective co-existence."
The documentary would showcase several innovations and research work from pioneers in their fields in the areas of technology, healthcare, economics, education, alternative clean energy sources, urbanization and personal development.
The documentary is currently seeking funds through a crowd-funding program with RocketHub, a premier crowd-funding platform.
About ICREATE Technologies, LLC
ICREATE Technologies LLC is an organization that merges science and technology with human consciousness to establish synergies between the complementary schools of thought. This company has produced two books - Oh My Genetics Of Divinity and Seven Symbiotic Collaborations For Spiritual Cashflow, the latter alluding to this controversial documentary Homo Intelligens - The First Generation and is the first to announce the name of the new species of Humans and publicize the date of July 28th 2014 to indicate the start of World Peace ONE.