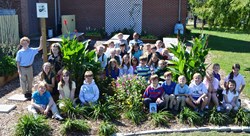 Students will gain valuable experience witnessing the life cycle of a butterfly and interacting with the species during the different stages of growth.
Gloucester, Va. (PRWEB) August 14, 2013
Ware Academy students will have the opportunity to watch caterpillars grow and transform into Monarch butterflies not only in the gardens outside, but also inside their halls and classrooms this year thanks to an environmental education mini-grant award the school received from the Hampton Roads Planning District Commission.
The grant will expand its life science curriculum by adding an indoor learning component to the already successful butterfly garden located on campus, which is also an official Monarch Waystation.
The grant funds the equipment and educational resources needed to build an indoor terrarium and "bring monarch caterpillars into the school building…positioned in the main hall for observation," according to Ware Academy's grant application.
"Students will gain valuable experience witnessing the life cycle of a butterfly and interacting with the species during the different stages of growth."
Students of all ages at the Virginia private school, ranging from 3-year-old pre-school age children to eighth grade middle school students, will benefit from watching the transformations.
Bringing the terrarium inside the school will allow teachers to also bring individual pop-up cages directly into their classrooms.
Students will collect caterpillars from the educational garden, document growth, maintain a healthy habitat, restock the milkweed food source, record the transformation from caterpillar to chrysalis, track the time it takes to mature and tagging the Monarch butterfly prior to release.
The third through fifth grade students will participate in a Monarch migration project using a registered Monarch tagging program to help determine how many raised Monarchs successfully reach Mexico in winter.
The project begins this month (August) and will run through November.
ABOUT WARE ACADEMY:
Located one mile from Main Street in Gloucester's historic Courthouse district, Ware Academy is a Pre-K through 8th Grade independent school. The 19-acre campus is widely recognized by its signature farmhouse called Noland Hall, which houses the administrative offices, kindergarten, pre-kindergarten, music and art classrooms.
The Lower and Middle Schools are located in Waddell, Thomas, and Pickett Halls, with athletics, physical education and drama classes held in Kilborn Hall.
In addition to classrooms, Ware offers a fully outfitted computer lab, a science laboratory and a 1,000-square-foot library. The athletic program includes soccer, volleyball, cross-country, basketball, lacrosse and golf.
Ware Academy is accredited by the Virginia Association of Independent Schools, the National Association of Independent Schools, and the Education Records Bureau and the Secondary School Admissions Test Board. Ware Academy is also a member of the National Middle School Association, the National Junior Honor Society and the Association of Supervision in Curriculum Development.
Keep in touch with Ware Academy online at http://www.wareacademy.org, on Facebook at /WareAcademy and on Twitter @WareAcademy1.