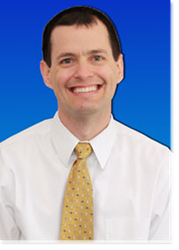 At Robinson Family Dentistry, our goal is to make real differences for our patients' quality of life.
Hahira, GA (PRWEB) August 13, 2013
Dr. Kit Robinson and his staff at Robinson Family Dentistry in Hahira, GA recently introduced a revolutionary new method for early cavity detection. This technology, called DIAGNOdent, can find even the smallest areas of decay, making it possible to diagnose and treat them before they become larger, more expensive issues. DIAGNOdent is now used by Dr. Robinson for all patient check-ups.
DIAGNOdent is 90 percent more accurate than X-rays at locating cavities in their earliest stages. With earlier diagnosis, problems can often be treated without the need for highly-invasive procedures. A precise laser scanning system scans your teeth and sends out a signal, registering a digital read-out. The dentist can measure the fluorescence in each tooth's structure and identify where cavities may be forming in even the smallest of spaces in and around your teeth. The process is comfortable and takes only a few short minutes.
"At Robinson Family Dentistry, our goal is to make real differences for our patients' quality of life," said Dr. Kit Robinson, general and pediatric dentist in Hahira, GA. "We use the most state-of-the-art technology to help alleviate pain, improve health, and bring self-confidence to each of our patients."
It is in the tiny cracks and grooves of a tooth's surface where most tooth decay begins. By the time a cavity is detected, either by X-ray or due to pain in the mouth, it often means there is a much larger problem. Because fluoride is used by most people, tooth decay sometimes never makes it to the surface of the tooth, but instead eats away at the tooth from the inside. With the DIAGNOdent laser, these small areas of decay can be detected and treated early.
Dr. Robinson's patients have been happy with their experiences at Robinson Family Dentistry.
"I've never left a dentist office feeling so pleased as I have with Dr. Robinson," said Lisa S., a patient at Robinson Family Dentistry. "I was in and out in no time. The staff was so pleasant and friendly. Dr. Robinson put me at complete ease and I didn't feel a thing. I've found my new dentist for sure."
Dr. Robinson and his team provide a wide range of services for patients seeking the healthiest, most attractive smile possible. In addition to his general dentistry services, Dr. Robinson's practice offers whitening, dental implants, and orthodontics in Hahira, GA. He is also an experienced TMJ dentist.
Dr. Robinson received his Doctorate of Dental Medicine from the University Of Kentucky Dental School after obtaining his undergraduate degree from Brigham Young University. He participates in continuing education programs in order to keep up with the changing trends in dentistry and to provide the best, most state-of-the-art care for his patients.
For more information about DIAGNOdent or the dental services offered at Robinson Family Dentistry, please visit http://KitRobinsonDMD.com and http://www.youtube.com/watch?v=ukQlbIwbDgs.