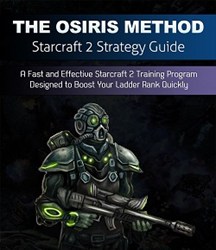 (PRWEB) August 13, 2013
A new Starcraft 2 guide, The Osiris Method, has just been released. This guide promises to help Starcraft 2 players of all skill levels significantly improve their rank.
According to the creator, who goes by the name Osiris, this guide is unlikely any other Starcraft 2 guide ever created. Unlike other guides which focus entirely on strategy, The Osiris Method is the only SC2 guide which provides an actual step-by-step training program.
The goal of The Osiris Method is for every user of the guide to be able to increase their rank from 1-3 divisions (depending on starting rank) after completion of the training. Bronze league players are expected to move into Platinum, Gold into Diamond, and Diamond into Master League. No other Starcraft 2 guide guarantees these kinds of results.
According to the creator, Osiris, the amount of time needed to achieve a major rank increase is dependent upon how much time you have to play the game and follow the practice regimen. Players who play regularly may get this big rank increase in as little as 5 weeks, whereas more casual players may take up to 10 weeks to complete the program.
The key to this program's success is the unique training style implemented in The Osiris Method. Other Starcraft 2 guides spend time talking about game-specific strategies like unit counters and different rushes. The Osiris Method pulls on common elements in successful training programs in sports and games that have been around a lot longer than Starcraft, such as tennis and golf.
By examining professional Starcraft 2 players as well as established training programs from other sources, Osiris noticed something that other Starcraft 2 players had failed to notice before: strategy is much less important than the basics. Players who fail to perform well at Starcraft 2 often are great strategists; they just lack the basic skills required to execute those strategies.
Using tennis as an analogy, imagine there was a brand new player trying to learn how to play the game. Would a guide that discusses advanced serving methods be very helpful for a complete newbie? The answer is no, as the new tennis player would not have the mechanics necessary to perform those serves. The new player needs to know how to hold and swing their racquet – the advanced strategies come much later. Other Starcraft 2 guides are the same way; other guides discuss advanced strategies without giving new players the tools to flawlessly execute those strategies.
The Osiris Method first teaches players how to truly play Starcraft 2 in an efficient manner so that they can execute pro-level tactics and strategies without falling behind the blistering speed of the professional Starcraft 2 player.
By taking this approach, The Osiris Method is able to promise players big rank increases. Osiris is putting his money where his mouth is too. If you fail to improve by the end of 60 days, there is a 100% money-back guarantee.
The Osiris Method is available for download at http://www.osirismethod.com/.
About The Osiris Method
The Osiris Method is a next-generation Starcraft 2 strategy guide that promises to help increase player division rank in as little as a few weeks. The creator of the Osiris Method regularly maintains a Starcraft 2 blog which can be found at http://www.osirismethod.com/blog/. The blog provides Starcraft 2 strategy and news updates, covering everything from new strategies to providing commentary on game changes.