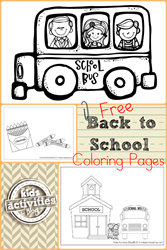 Back to School coloring pages are perfect to keep kids occupied during the rush of back to school organizing.
Dallas, TX (PRWEB) August 13, 2013
It`s time to get back into the school spirit. Kids Activities Blog has released cute Back to School coloring pages. The images are large enough that they can be easily painted with glue and glitter.
The three templates feature an athletic, nerdy, and academic owl. The athletic owl is sitting on a football. The cute nerdy owl has broken glasses and is sitting on a pencil and the academic owl is wearing a sweater and is sitting on a book.
Another set of fun coloring pages perfect to ease the transition into school routine includes designs featuring kids on a school bus, a box of crayons, kids arriving at the school house, a desk and chalkboard, and a backpack with books.
Talking to the kids about the excitement of going back to school while they are filling out the pages will help them transition back into the school routine.
The coloring pages might give the kids something to do in the rush of getting school supplies organized in time for school.
For more fun coloring pages and to get additional tips about easing the transition back to school, check out Kids Activities Blog this week. Come get inspired to make the back to school transition as smooth as possible.
About Kids Activities Blog
Kids Activities Blog is a website created by two moms (who collectively have 9 children), Rachel Miller and Holly Homer from June Cleaver Nirvana. It is their daily goal to inspire parents and teachers to play with kids. This interactive website publishes simple things to do with kids twice a day. Kids Activities Blog is a great tool for moms and teachers to find kid-friendly activities that create memories and sneak learning into the fun.