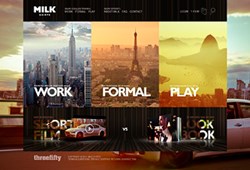 So far the Milk Shirts experience that I have had has been nothing short of exceptional.
Hong Kong, Hong Kong (PRWEB) August 19, 2013
The latest article from the blog Made to Review provided an exciting review on MILK Shirts, giving readers insight into the flexibility and ease of ordering white dress shirts for men from their website.
MILK Shirts is a men's fashion brand that exclusively creates white shirts for men. They offer dress shirts for men in the following styles: Play, Work and Formal. In doing so, MILK Shirts has built a reputation for itself as being the absolute staple of any man's wardrobe.
Made to Review's article offers an overview of what a prospective buyer can expect on MILK Shirts' website. The article highlights the support provided by MILK Shirts to the reviewer in order to let him have an insight into the ordering process, experience the three different kinds of collections of white dress shirts that MILK Shirts provides, and learn how easily it customizes sizes and fittings for its customers.
Made to Review aims to help its readers discern whether MILK Shirts can support its marketing claims and share information that will help with their shopping research. Reviews on the brand's Facebook page have been generous with praise from customers who have ordered and received customized white shirts from MILK shirts' website.
Positive aspects identified in Made to Review's article include the fact that MILK Shirts offers great standard sizes and made-to-measure white dress shirts for men. All shirts (except button-down collar) come with a pair of 'MILK' engraved collar stays, and you can also have your shirts monogrammed for no additional charge.
Made to Review leaves final comments by stating that the site has done a phenomenal job in terms of not only making their ordering process convenient and easy to maneuver, but that they have a great selection of white shirts for men. The article also encourages readers to visit their Facebook Page for motivation and their Instagram Feed for some inspiration.
For those seeking stylish white shirts for men, the article offers excellent insight into the online shopping experience that a buyer will encounter on MILK Shirts' website. The article mentions that as soon as you have saved your information on their website, MILK Shirts saves your size and modifies it according to the type of shirt you want to order. The website offers helpful guides and how to's as well.
Made to Review is a blog designed to provide information to online shoppers that are interested in Bespoke, Made to Measure and Off the Rack clothing, footwear and menswear accessories. Editors provide unbiased assessments of brands' claims and customer satisfaction as well as the personal opinions of their expert bloggers.