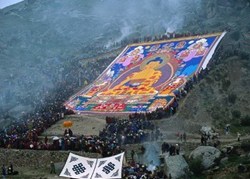 we encourage clients to visit Tibet during the festivals and always provide local Tibetan guides in our tours. -- Helen Wang
(PRWEB) August 13, 2013
2013 Shoton Festival, one of the grandest traditional festivals in Tibet was held from 6th to 12th in August. WindhorseTour's clients have just finished their 9-day Tibet Shoton Festival and Nagchu Horse Riding Festival tour with local Tibetan guides.
The first highlight was the grand Thangka unveiling ceremony on 6th August at Drepung Monastery. The clients from WindhorseTour, together with hundreds of thousands of people have witnessed this sacred moment this year.
At 8:00am, the 500 sq. m. (598 sq. yd.) painting of Sakyamuni was gradually unfold on the hillside in the back of the monastery. this ceremony is called "Buddha basking in the sun" and has lasted for over 300 years.
With the assistance of the local Tibetan guides at WindhorseTour, clients have participated into the celebrations of the locals by praying themselves in front of the Thangka.
On 7th August, clients have watched the horsemanship and yak race show at 9:00am at the Lhasa Race Course. The interesting Yak Race Show has made lots of people cannot help laughing. Some yaks just did not move no matter how riders beaten, while some just run about aimlessly out of riders' control.
The traditional Tibetan Opera was held at Nobulingka in the afternoon. Clients sat on the mats with the locals, drank butter tea and chang, tasted dessert and watched the opera while waving the prayer wheel or holding a rosary in hand.
As a bonus, in the second part of this festival tour, clients have headed to Nagchu to attend another traditional festival, the Horse Racing Festival held by Nagchu local people. Dressing themselves and their finest horse, thousands of herdsmen have participated in the thrilling horse race, archery and horsemanship contest during the festival.
WindhorseTour, a local travel agency with offices in Lhasa, have always been dedicated in providing customized Tibet private tours for travelers from all over the world.
"Aiming to help clients participate themselves first hand with the locals and better experience the Tibetan cultures, we encourage them to visit Tibet during the festivals and always provide local Tibetan guides in our tours." Helen Wang, the sales manager at WindhorseTour said.
To help clients better plan their trips, Helen Wang have also written a blog to introduce the top 10 must see in Tibet. Any questions, please visit WindhorseTour.com for more information or contact them.
Email address: news(at)windhorsetour(dot)com
TEL: (+86)-28-85593923, (+86)-28-86254701
Fax: (+86)-28-86254710