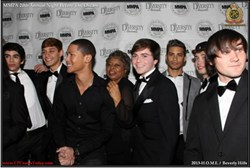 One of the most entertaining books that I have read in this genre. It is a coming of age story filled with laughter and tears, violent and brutal murders, unbridled sex, and of course, werewolves.
Hollywood, CA (PRWEB) August 13, 2013
This ain't your mother's book release party! Jon Morgan Woodward, Author/Actor/Writer/Producer, and Director John Carl Beuchler have created a mind-blowing party to go along with the release of the book, 'Hidden Valley: The Awakening,' the first of five adapted thriller screenplays from The Hidden Valley Saga Series, published by The Red Carpet Connection Publishing, Publicity, and Talent Agency. The affair will take place at the Hayworth Theater, 2511 Wilshire Blvd, Los Angeles, California 90057, from 7:00-11:00 p.m. Tickets can be purchased from Eventbrite. http://hiddenvalleybookrelease.eventbrite.com/
'Hidden Valley: The Awakening' was voted the most anticipated movie to be released in 2014 on IMDb. The release party, hosted by Actor/Comedian Brett Hunt, will feature the band, ROCKERO5, and songs performed by Hovhannes Babakhanyan, and Matthew Parry-Jones. Throughout the red carpet event, passed hors d'oeuvres will be offered, along with complimentary wine, and a cash bar with inexpensive drinks for purchase. All ages are welcome.
In Woodward's novel, when three high school kids are attacked by a vicious werewolf, a chilling story unfolds about love, life and what lengths a small community goes through to try and win a high school championship. As the sun sets and the full moon rises, all hell breaks loose. Everyone has to fight to save their lives during a night of murder and uncontrollable slaughter in Hidden Valley.
The full moon arrives at 5:45 p.m. PST August 20, 2013. Make sure you make it to the Red Carpet by 7:00 p.m., where the thirst for werewolves will be quenched and get a personally autographed book by actors and producers associated with the movie to be released in 2014, Hidden Valley: The Awakening. Described as 'addictive as crack cocaine,' the book will be available in paperback at the release party.
The weekend prior to July 2013's full moon revealed a limited pre-release edition of Hidden Valley: The Awakening. Coinciding with the annual Comic Con International Convention in San Diego, CA., copies of the pre-release limited edition were distributed to a select group of fans, contributors, reviewers, and investors who love horror, thriller, and mystery featuring love, lust, blood, and werewolves. The book is receiving rave reviews.
"One of the most entertaining books that I have read in this genre. It is a coming of age story filled with laughter and tears, violent and brutal murders, unbridled sex, and of course, werewolves," commented John Carl Beuchler, Director of the planned movie. Beuchler signed on for the direction of Hidden Valley after reading just a few pages of the screenplay and the book adaption, which he described as "…so right from a cinematic stand point…viscerally and dynamically to the page as it would play on the screen. Beuchler is most noted for his Direction on Paramount Pictures' Friday the 13 Part VII: The New Blood (1988) and his design as Director of Special Effects for Troll (1986). Buechler's work in cinematic monster-making is legendary and some of his creative monster work will be featured in a special theatrical show at the book release party August 20th.
Woodward, an accomplished director, producer, screenwriter, and actor with a PhD in Naturopathy with specialization in Forensic Profiling, and a man who singlehandedly raised 5 children, brings a wealth of knowledge, experience, talent, and intrigue into this storyline that fascinates both young and mature adults as it delves into the mystery of this small town and its secrets.
Having been on stage since a child, Woodward is listed on IMBd for numerous accomplishments over the last 30 years, including the psychological thriller One Hour Fantasy Girl, and others, including Chances, The Day the Music Died, and IJE the Journey. Additionally, he has other major accomplishments including his involvement with the 'Just Say No to Drugs' Campaign with the White House Conference for a Drug-Free America under the Reagan Administration.
Adding to the music mix at the Red Carpet Book Release Party will be music composed by Andrew Lane, a Producer/Writer with Drew Right Music who has sold over 50 Million Records. Lane and his team have been responsible for 11 American Idol top 6 finalists, signing 12 artists to major record deals in the US, Japan, and Europe, six series regulars on Disney/Nick/ABC Family/Major Motion Pictures with Tom Hanks Hugh Grant Act/ HBO/Showtime, The Voice, and many others.
Lane is a pop/hip-hop/R&B songwriter and record producer who has worked with artists such as the Backstreet Boys, Irene Cara, Toni Braxton, O-town, Snoop Dog, Britney Spears, Annemarie, Cash Money (Nicki Minaj, Drake, Lil Wayne) and Selena Gomez. Receiving gold and platinum accreditation for his work with R&B artists Speech, Keith Sweat, and Alsou, Lane also worked on the platinum-accredited records High School Musical, Hannah Montana, Disneymania 4, Princess Diaries and Manny Fresh. The dance party August 20th will include the premiere of new music, as well songs from a variety of talented local Hollywood artists.
Actors slated to be in the movie version of the book Hidden Valley: The Awakening include actor Booboo Stewart, who played the role of Seth Clearwater in the Twilight Saga Eclipse and reprised the role in both Breaking Dawn 1 and 2, Reatha Grey, one of the hip senior pranksters starring on the NBC hit series Betty White's Off Their Rockers, actor/comedian/rapper Brett Hunt, actor James Cavlo, actress Kayla Tabish, actor Carlos Ramirez, actors Hector David Jr. and Najee De-Tiege from the hit tv series Power Rangers Samurai, actor Brandon Tyler Russell, actor Connor Mulqueeney,and actor Hassan Mahmoud may be at the release party.
States Mahmoud, also a writer, about the book, Hidden Valley: The Awakening: "Hidden Valley: The Awakening is fresh! It's more than your average horror/love story. Woodward hits audiences on all levels of life and makes the story relateable to anyone who reads it, from teens to adults. This is going to be the next best-selling book series with a great new flavor!"
"Riveting!!! Hidden Valley: The Awakening is a rage of teenage passion bringing American folklore to life with horror in the modern era. A macabre of wicked truths revealed about the generation of our time. I am engulfed by anxiety and despair by the curiosity of what is to become of the remaining characters," remarks Carlos Ramirez slated to play a werewolf in the movie.
To reserve your Red Carpet Book Release Reservation and receive a copy of the book for $19.99, autographed personally by author John Morgan Woodward, visit http://hiddenvalleybookrelease.eventbrite.com/. Books will be available for purchase at the door for approximately $30.00.
Attire for the event: Formal
All media and talent managers, please email hiddenvalleythemovie(at)aol(dot)com. For information on the movie, check out http://www.HiddenValleyTheMovie.com. For more information on 'Hidden Valley: The Awakening' book release party, to request an interview with the author or director, to sponsor a book signing, or for any other info please contact our public relations department or the author, Jon Morgan Woodward.
###