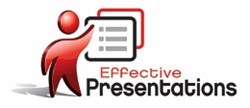 Effective communication is 20% what you know and 80% how you feel about what you know.
Lakewood, CO (PRWEB) August 13, 2013
Business professionals seeking to develop effective presentation skills, refine their business acumen and accelerate their career development will have access to new e-Learning platform, Lakewood-based Effective Presentations announced recently.
"We are very excited to announce the addition of a comprehensive e-Learning platform to our training line-up," says Effective Presentations founder, Mike Fruciano. "As a leader in the area of communications, presentation skills and corporate training, it was imperative that we identify and utilize every available platform to reach our clients. Our website is becoming a tool for learning."
Fruciano says Effective Presentations' e-Learning platform will be condensed—though effective. "This new platform will include a variety of offerings. Our Phase I roll-out will include our much sought after Effective Presentation Skills training, delivered live via webinar, as well as 1-1 coaching.
Phase II will involve corporate follow-up training webinars, intended to sustain and reinforce the onsite learning experience for our many valued clients, and Phase III will introduce a diverse array of self-paced e-courses critical to success in today's competitive marketplace."
The initial roll-out of Phase I apparently has been greeted with enthusiasm, as Fruciano indicated Effective Presentations has commenced their search for additional trainers to meet the anticipated demand for this new curriculum.
The Effective Presentation Skills e-Learning webinar includes training on:

Making a solid first impression
The importance of body language in engaging an audience
Voice techniques
Utilizing appropriate humor
Overcoming the fear of public speaking and effectively delivering a presentation
"These are the basics of presentations skills and we're offering them in a convenient format that clients can access from the comfort of their own home or private office," Fruciano says.
"Online learners can expect the same high caliber professional training our clients have come to expect from Effective Presentations. I'm confident e-Learners are going to enjoy these courses, and one of the most exciting aspects is that this new platform will provide on-demand training to individuals across the country, regardless of whether Effective Presentations currently has a live event scheduled in their area."