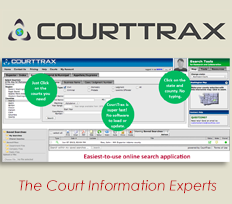 ..we are excited to keep CourtTrax clients at the leading edge of court records technology.
Issaquah, WA. (PRWEB) August 14, 2013
CourtTrax, America's court information experts, announced today that recent growth and expansion in new markets has led to several corporate changes including a move to new corporate headquarters, the launch of a new website (http://www.CourtTrax.com), and the redefinition of its corporate brand.
"CourtTrax has experienced significant growth, leading us to make several changes in our organization, which serves clients in the legal profession, the title business, and the insurance industry," explained Nick Ledbetter, CEO/CTO. "CourtTrax is now in all Federal courts in all 50 states, plus today we are in local courts at the state, county, and municipal level in 15 states. And we are poised to quickly expand our reach to 22 states. In past years, we often were considered a West Coast company, but today much of our focus has grown to be national. Our client list has also grown --by over 25%! Our revenues have expanded as well. Earlier this year we moved our headquarters to Issaquah, Washington to gain needed space. As a result of this growth, we felt our brand identity and web presence needed to also be updated to reflect who we have become," Ledbetter said.
Via the new CourtTrax website, paralegals, law librarians, title officers, and insurance special investigators can gain instant, secure access to the full CourtTrax portfolio of on-line search tools and document retrieval applications. The updated site also provides broader technical information for operations managers and IT professionals who serve the needs of CourtTrax end-user clients. Site visitors can view information on changes in court access; can download white papers; and can quickly see upcoming industry events. And regardless of the computing devices used, all visitors will have increased site accessibility. Information available on the new site is viewable on laptops, iPads, desktop computers, or any web-enabled phone or smartphone.
"With our recent growth, we wanted to do more for our clients," explained Allen Larson, CourtTrax vice president of sales and marketing. "Our business is specialized in a very defined area. Clients tell us they most value our ease of use, our customer service, and our responsiveness. So we wanted a site that would be easy to visit, and that would also show our deep commitment to the special business practices in legal, title, and insurance. We believe our new site achieves that," Larson noted.
The new website highlights the insights of ten CourtTrax clients. "We felt it was important to highlight the strong relationships our clients form with us," explained Denise Coghlan, manager of client services. "Our clients are super busy, and we know they have options, so at CourtTrax superior personal service is our #1 priority. We wanted our new website to show what that means. So we invited a number of our customers to share their CourtTrax experiences," Coghlan said. "There is nothing as effective as hearing about a firm in the actual words of its customers. So we included ten client comments on our new site. We were gratified by the wonderful responses we received."
"At CourtTrax, we are excited about our growth," CEO Nick Ledbetter stated, "and we are excited to keep CourtTrax clients at the leading edge of court records technology. Our new, updated look reflects our recent growth. And our refreshed CourtTrax website helps improve the process of how clients in title, legal, and insurance can gain the accurate and timely court information they need. We are proud to be able to connect our valued CourtTrax client to more states, more courts, and more regions of the USA."
CourtTrax is one of the nation's leading providers of electronic access to state and federal court record information. Founded in 2004, CourtTrax offers a broad base of solutions aimed at electronic court record searching, document retrieval, document recording, data integration and web services. CourtTrax is located at 1180 NW Maple Street, Suite 302, Issaquah, WA 98027.