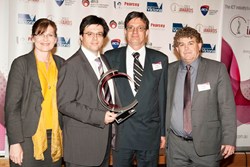 Spectra QEST is proving year after year that it is possible for South Australian information technology firms to be global leaders in what they do.
(PRWEB) August 14, 2013
The iAwards is "Australia's premier technology awards program, focused on recognising the contributions that ICT make across all sectors of the Australian and global economies." (http://www.iawards.com.au)
Spectra QEST Director Stephan Mavrakis said, "We are all very proud to win Australia's most prestigious IT award, and the recognition such an event brings to our Company. Spectra QEST is proving year after year that it is possible for South Australian information technology firms to be global leaders in what they do. We look forward to representing Australia in Hong Kong in November where the Asia Pacific Information and Communications Technology Alliance (APICTA) Awards will be awarded."
iAwards Chair Russell Yardley said, "It's always rewarding to see the far reaching impact which the use of innovative technology has on our economy...This year's iAwards program again uncovered some exceptional innovations in the application of ICT across many different industry areas and showcased the true value of ICT to our nation."
The award was presented to Spectra QEST Directors Stephan Mavrakis and Manfred Sautner by Bob Cupitt, Principal at BusinessBC, at The Palladium, Crown Melbourne. The Award Presentation Ceremony was attended by Senator, the Hon Kate Lundy, Minister Assisting for Innovation and Industry, Minister Assisting for the Digital Economy, and was followed by a Gala Dinner.
At the centre of Spectra QEST's Quality Platform is a highly specialised and centralised Laboratory Information Management System (LIMS), QESTLab. This product has been commercially available for 10 years and has been continually refined and improved in accordance with customer needs. Spectra QEST's current, innovative and unique solution, the QEST Quality Platform, integrates QESTLab with two recent developments, QESTField and Construction Hive. QESTField is a web-based real time data entry system that provides field staff on the construction site with instant, bi-directional access to the laboratory information management system and enables the instant creation of field testing and inspection reports. Construction Hive is an online collaboration platform providing applications for the efficient distribution and analysis of information relating to construction materials testing and inspection. The QEST Quality Platform affords substantial benefits to testing companies on large road projects.
Spectra QEST now has the opportunity to represent Australia as it competes with businesses from across the Asia Pacific region at the 2013 APICTA Awards in November. (http://www.apicta2013.com)
Spectra QEST would like to thank iAwards, together with the host partners the ACS, the AIIA and the Pearcey Foundation, the major partner State Government Victoria and all other sponsors, for the recognition the company has received through this award.
Excerpts from a videotaped interview with Spectra QEST Director Stephan Mavrakis can be found here: http://goo.gl/BH6J5 .
About Spectra QEST (http://www.spectraqest.com)
Spectra QEST is a software development and services company specialising in solutions for the construction materials testing, inspection and production industries. Founded in January 1984, Spectra QEST offers the most comprehensive construction materials quality platform on the market today. Its customers include leading international construction companies, construction materials and geotechnical testing companies, construction materials manufacturers, and government bodies.