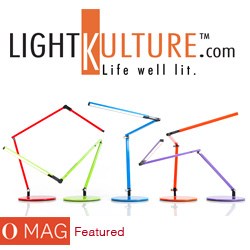 We are thrilled to participate with O Magazine to promote a product we truly believe in.
Los Angeles, CA (PRWEB) August 15, 2013
LightKulture.com is pleased to join O Magazine to offer Oprah readers a 20% savings on Koncept Z Bar Mini. "We are thrilled to participate with O Magazine to promote a product that we truly believe in," noted Susan Inderbinen President of LightKulture.com. The Z Bar Mini is a 7 watt LED ray of light, features a full 23" extending reading arm, is the perfect table lamp for small work spaces. The sleek design includes a touchstrip full range dimmer. The Z Bar Mini is available in Metallic Black, Silver, White, Red, Orange, Green, Blue and Purple, is sure to add a splash of color and school spirit to any homework space. It is easy to understand why O Magazine has chosen the Koncept Z Bar Mini LED lamp as a must-have for back to school. The Z Bar Mini features Koncepts award winning three bar design for ultimate reach and complete flexibility in any direction.
Founded in 2005, Koncept's mission is design innovation. Their goal is to create products that set high standards in the industry, while making life safer simpler and greener. The company has earned several prestigious awards including the red dot award for design excellence. Even the tremendous success of these exceptional LED lamps has not slowed down the Koncept team of innovators. Ideas never rest at Koncept. Wall mounts, table mounts and clamp-on options are also available. For large student work spaces like the library or labs, Z Bar Mini offers LEED credit eligibility for optimized energy performance, innovation in design and recycled content. Teaching professionals understand that proper lighting is an essential tool for learning, it's also important to alleviate eye strain at any age. Light energy needs to be consumed efficiently. Koncept Z Bar Mini is a stylish solution to these conflicting demands, adding an element of color and comfort to any space.
For more information go to:
Koncept http://www.lightkulture.com/p-1765-z-bar-mini-gen-3-led-desk-lamp-koncept.aspx/.
"The Koncept brand is our go-to LED light source when our customers are looking for a big light, but have a small space. We have been selling Koncept for a few years now. They are a reliable source for contemporary, energy efficient LED task lighting. We are very excited to be included as a resource in O Magazine, as Koncept has been recognized as a top pick for back to school. Prior to my lighting career, when my daughter was school age, I made sure she had the right book bag, proper shoes, plenty of paper and pens, but at that time, I did not realize the importance of proper lighting. With the advances in LED technology, it is amazing to find a 7 watt LED lamp, that is dimmable, adjustable, energy efficient, with so much style, on sale starting at under $200. Now that LightKulture has been selected to offer Oprah readers and additional 20% off, the Z Bar Mini is truly an exceptional value during this promotion. Your kids will like it because it comes in a rainbow of colors. They may even enjoy reading and writing more with such a cool, hi-tech LED desk lamp. You can be confident, the light source runs cool, is energy efficient, and will reduce glare and eyestrain. Shoes last a semester if you're lucky, the Koncept Z Bar Mini will be something your kids take with them to college," noted Susan.
About LightKulture.com
At LightKulture.com our mission is to offer the finest energy efficient contemporary lighting and light fixtures from around the world. We have assembled an exciting collection of the industries most innovative decorative and architectural lighting. We are proud to offer lighting solutions for both your home and work-life environments. Simplicity in design is complicated, function makes it last. Be inspired by our range of essential designs from well respected American and European manufacturers. In today's world, energy efficient lighting is as important as eco-friendly or green lighting fixtures, such as LED or CFL lighting. We offer the very best energy efficient lighting and light fixtures, both high value LED lighting fixtures and CFL lighting fixtures in modern and contemporary styles that provide quality, innovation and authenticity.
LightKulture.com
http://lightkulture.com
Email: sales(at)lightkulture(dot)com
Tel. 941-330-0422