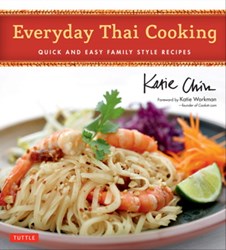 "[Katie Chin] presents a delicious and mouthwatering assortment of Thai recipes that are simple enough for any home cook to master."

-Iron Chef Morimoto.
(PRWEB) August 21, 2013
Thai cuisine, known for aromatic flavors that explode your taste buds with piquant flavors and abundant textures, are also reflected in the personality of Katie Chin—a chef/author whose love of the cuisine comes roaring through in her new cookbook, Everyday Thai Cooking.
In Everyday Thai Cooking, Katie shares her recipe secrets along with tips, tools, and time-saving techniques that enable you to easily bring delectable homemade Thai dishes to your table! Illustrated with mouthwatering color photographs, Everyday Thai Cooking features more than 100 simple Thai recipes that include:

Crunchy Siam Spring Rolls
Chicken Satay with Spicy Peanut Sauce
Sour Spicy Shrimp Soup (Tom Yum Goong)
Pad Thai
Crispy Mango Chicken
Shaking Beef
Fragrant Coconut Fish in Banana Leaves
Sweet and Tangy Thai Noodles (Mee Krob)
Sweet, Ripe Mango with Sticky Rice
Let Katie show you why Thai cuisine is the favorite food of so many people as she walks you through the surprisingly easy steps needed to create a spectacular Thai meal!
About the Author
Katie Chin (TheSweetAndSourChronicles.com) was born and raised in Minneapolis by her award-winning restaurateur mother, Leeann Chin. She is the co-author of Everyday Chinese Cooking and author of 300 Best Rice Cooker Recipes. She was co-host with her mother, Leeann, of the 2003 national PBS cooking series Double Happiness.
Katie has made numerous appearances on The Today Show and has appeared in specials on The Food Network and Fine Living. She has been featured in Glamour, Family Circle, Cooking Light, Bon Appétit, Self Magazine, Angeleno Magazine, Hampton Magazine, Elle Magazine, Daily Candy, Daily Variety, Real Simple and The Los Angeles Times.
Katie recently served as a guest judge on Food Network's Iron Chef America and appeared on Cooking Channel's Food(ography) program last summer. She is also the Culinary Ambassador to City of Hope and its Super Foods initiative, which resulted in her appearance at the 2013 White House Easter Egg Roll. When not testing out her new recipes on family and friends, she divides her time as a private chef and culinary consultant in Los Angeles, CA. __title__ Everyday Thai Cooking by Katie Chin]