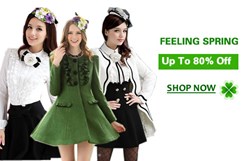 (PRWEB) August 13, 2013
4leafcity.com is a leading provider of of cell phone accessories. Recently, the company launched its iPhone 5 leather case promotion (see: http://www.4leafcity.com/product-iphone-5-leather-cases-010001007.aspx). The company promises that it will donate up to $2000 to the poor students in China at one time.
According to Arlene Wang, CEO of the company, they launched the special offer to show appreciation to all customers worldwide. Now, all of these cases are available at discounted prices of up to 50% off. The special offer is being made available for a limited time only. To sign up to become a member of 4leafcity.com, please register on the website.
"We are excited to launch the promotion. This time, our goal is to sell 10,000 cell phone cases, which we have confidence to meet and surpass. Before making a decision to buy a fashionable cell phone case, it is a good idea to check our website. In addition to great discounts, we provide speedy delivery to give the best experience possible to a wide array of people," says Arlene Wang.
4leafcity.com is a company known for a great number of award-winning dresses, and the company is offering many cheap men's shirts, wedding dresses, prom dresses, and more.
About 4leafcity.com
4leafcity.com is a China based company operating though the online platform, 4leafcity.com. The company supplies environmentally friendly electronics, women's dresses, elegant men's dresses and various accessories for men and women. It is known for its high quality and low rates.
For a full list of services and to learn more about 4leafcity.com, please visit http://www.4leafcity.com.