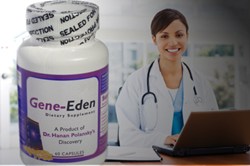 So many people are infected and nobody wants to develop Alzheimer's. Therefore we recommend that almost everyone take Gene-Eden-VIR. - Mike Evans, polyDNA
Rochester, NY (PRWEB) August 14, 2013
Herpes viruses, especially the Epstein Barr Virus (EBV), are linked to the decline of mental abilities that progresses to Alzheimer's disease (AD), according to researchers from the University of Bologna, Italy. (1) Some studies have already shown a clear association between HSV-1 (Oral Herpes) and the development of AD. (1) However, for the first time scientists have shown herpes viruses increase the risk of AD. (1)
In this study, EBV was found in the blood and brain tissue of Alzheimer's patients. The study authors wrote that "a high proportion of AD patients had EBV positive blood leukocytes. (1)" In addition, "brain tissues examined were positive for EBV. (1)"
The Centers for Disease Control and Prevention (CDC) says on its website in a page updated on May 16, 2006 that primary infection with the Epstein Barr Virus usually occurs early in life. In the United States, more than 95% of the population is infected. (2)
"So many people are infected and nobody wants to develop Alzheimer's. Therefore we recommend that almost everyone take Gene-Eden-VIR. polyDNA developed Gene-Eden-VIR to specifically target the latent EBV. That is, before the virus becomes active. It's kind of like a pre-emptive strike." – Mike Evans, polyDNA
A recent post marketing clinical study, the abstract of which is posted on the website of the Center for the Biology of Chronic Disease (CBCD) on a page last updated this year (2013), showed that 70% of Gene-Eden-VIR users reported a reduction in viral symptoms. (3)
To learn more about Gene-Eden-VIR, the only all natural, antiviral remedy with scientific backing on the market today, visit: http://www.gene-eden-kill-virus.com.
References:
(1) http://www.ncbi.nlm.nih.gov/pubmed/23916950
(2) http://www.cdc.gov/ncidod/diseases/ebv.htm
(3) http://www.cbcd.net/Gene-Eden-VIR-Clinical-Study.php
polyDNA is a biotechnology company that develops dietary supplements using the unique scientific method developed by Dr. Hanan Polansky, which is based on Computer Intuition.
In addition to his unique scientific method, Dr. Polansky published the highly acclaimed scientific discovery, called Microcompetition with Foreign DNA. The discovery explains how foreign DNA fragments, and specifically, DNA of latent viruses, cause most major diseases.
polyDNA developed Gene-Eden-VIR, an antiviral natural remedy that helps the immune system kill latent viruses.