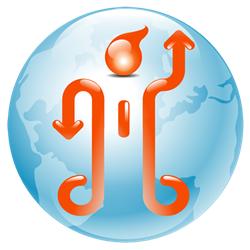 The new video of i-Mobb explains how people can make and receive calls all over the world with no roaming charges.
New York, NY (PRWEB) August 13, 2013
No roaming app i-Mobb, now available for Android, iPhone, iPod Touch, and tablet devices, has just been featured in a new instructional video. Available online on the company's homepage, the video is designed to help the app's many loyal users get the most out of their travel experiences.
"We're proud to announce the debut of i-Mobb's latest video. We hope it will help new customers and dedicated fans alike find something new to love about i-Mobb," said Bernard Drai, CEO of the no roaming app company.
The new video from i-Mobb covers the app's most basic functions, introducing new customers to the innovative technology that powers the free roaming app. When using i-Mobb, calls made while abroad are transferred via VoIP to a landline in the user's home country, so travelers will not have to pay unnecessary roaming charges. In addition, the technology allows travelers to keep their regular number, which prevents much of the confusion associated with international calls. The new video outlines the process and its many potential benefits, such as connecting business professionals or allowing friends to stay in touch and share stories. i-Mobb's instructional animation also informs users how to set up a voicemail inbox, which will intercept any calls received while the device is outside the range of a Wi-Fi signal and store messages for easy retrieval once the user is back within range.
i-Mobb began as the free roaming app available for people from eight countries, including the U.S., Canada, U.K., France, Japan, Germany, Netherlands and Italy. The 30 countries added in the new update make the app accessible to users from most first world countries, including Mexico, Peru, Sweden, Spain, Hungary, Ireland, Israel, Poland, Brazil, Argentina, South Africa, Honk Kong Australia and New Zealand. The app newly features a list of 60 countries to which outbound calls can be made at no cost.
The new update has also added a Push-to-Talk function for the iOS and Android version of i-Mobb, allowing travelers from those 38 countries to receive and give their calls while using other applications everywhere in the world. 
The new Push-to-Talk functionality complements the other innovative features included with i-Mobb. Subscribed users can make and receive all calls to their home country as though they were still at home, without paying roaming fees. They can also make calls to many other international destinations at reduced rates, with affordable VoIP technology connecting them instead of costly roaming wireless signals. 
A voice mailbox connected to the free roaming app informs callers of an i-Mobb's user's status and collects messages when the user is far from a Wi-Fi service area.
i-Mobb is currently available for users from 38 major countries, with more scheduled to be added in future updates. Users can call 60 countries at no cost with the app. Subscriptions are affordable and customizable to the length of the trip, from a week up to a month of service. The new updates will also allow customers to purchase recurring subscriptions--an especially helpful feature for frequent corporate travelers.
To learn more about i-Mobb, travelers can visit http://www.i-Mobb.com or follow the app designer on Facebook or Twitter at http://www.facebook.com/IMobbtheGlobe or http://twitter.com/IMobbtheGlobe, respectively.