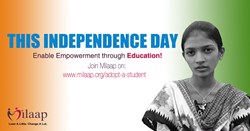 People say that the truth will set you free, we believe employment will.
Bangalore, Karnataka (PRWEB) August 14, 2013
Milaap.org, an online fundraising platform for impact, is celebrating India's Independence Day by raising funds for over 40 deserving students through its 'Adopt-a-Student' campaign. This campaign takes place until 15 August, 2013. These students mainly require vocational training, as well as school infrastructure projects that require funding. Milaap began this campaign to help deserving students, typically from rural backgrounds, to truly achieve independence, enabled by education.
Milaap has identified students from Orissa and West Bengal who are seeking funds to undergo vocational training. The students will be trained in skills required to be employed in sectors like pharmacy, teaching, hardware and IT. Once an individual 'adopts' a student, Milaap sets up a fundraiser page for them, and they are encouraged to raise funds by getting friends, family and colleagues to lend a little. So far, over 30 students have been adopted and over Rs. 4,00,000 has been raised. Once they complete the course and get a job, they will repay their loans. This is keeping in line with Milaap model – which believes in loans rather than donations.
Charu Srivastava from Singapore, one of Milaap's lenders took part in the campaign and raised Rs. 30,000 for Sambhu Meher in just one week. Sambhu hails from Bargarh in Orissa wishes undergo formal training in repairing mobile phones. Charu says, "I think Adopt A Student is a wonderful idea as is helps the less fortunate achieve their dreams."
Milaap would like to invite you to adopt a student by visiting milaap.org/adopt-a-student, or you can contribute to someone who has already been adopted. You can adopt a student until August 15, 2013, or fund students who have already been adopted until August 31, 2013. As Anoj Viswanathan (Co-Founder and President, Milaap) says, "At Milaap, we believe that education liberates individuals. There are many youngsters in rural India, who are not employable despite having basic education, because they are not skilled. Join us as we help at least a section of them free themselves through skill-based education, and lead dignified, productive lives."