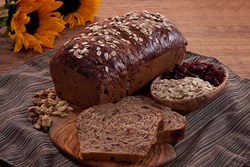 We're delighted that cranberries again proved themselves a tasty and healthy add-in ingredient to bread recipes - Scott J. Soares, Executive Director
Wareham, MA (PRWEB) August 20, 2013
U.S. Cranberries were featured at the recent 2013 National Festival of Breads competition where two of the top eight finalist bread recipes featured cranberries. The biennial competition seeks out America's best bread recipes created by home baker aficionados. From Pita to baguettes and whole grain breads to bagels, judges considered 500 bread recipe entries before selecting the eight winning finalists. Held in Manhattan, Kansas, the biennial event drew six hundred visitors.
Said Scott J. Soares, Executive Director of U.S. Cranberries, "We are delighted that cranberries again proved themselves to be not only a tasty and healthy add-in ingredient to bread but also worthy of final-round consideration amid some pretty amazing entries." Added Soares, "We also congratulate the overall winner, Rosemary Leicht, for her onion parmesan cracker and thank the Kansas Wheat Commission, King Arthur Flour, and Fleishmann's Yeast for this opportunity to demonstrate cranberries' reason-for-every-season versatility."
Amongst the eight winning finalists were Elke Ruby from Lincoln, Nebraska and Rita Lutz, from Horseshoe, Texas. In the Ethnic Breads category, Ms. Ruby showcased her German Streusel Cranberry Bagel, a recipe she had never made before the competition. In the Whole Grains category, Rita Lutz created a Two Grain Cranberry and Walnut Bread. Ms. Lutz attributes her baking roots to her childhood participation in 4-H. An honorary mention also went to Mary Kay Allen from Troy, Ohio for her Rustic Almond Cranberry Braid.
The finalists' recipes, along with other featured cranberry meal ideas such as salads, entrees, and drinks can be found at http://www.uscranberries.com. U.S. Cranberries also recently added a new suite of school lunch recipes as part of its school nutrition Toolkit that caters to food service providers.
A serving of fresh cranberries is a good source of vitamin C and fiber, provides antioxidant polyphenols, and contains only 1 mg of sodium.
Each of the finalists received a $500 cash award, as well as a Wheat Harvest Tour in the Heartland and a visit to a working Kansas wheat farm, flourmill and grain elevator. In selecting a winner, judges factored taste, originality, ease of preparation, healthfulness, and appearance. Categories included Ethnic Breads, Rolls, Time-Saving Breads, and Whole Grain Breads. The winner of the competition received $2,000 plus an expense paid trip to King Arthur Flour in Norwich Vermont plus a one-year supply of yeast from Fleischmann's Yeast.
###
The Kansas Wheat Commission is a farmer-funded and governed advocacy organization working to secure the future of Kansas wheat globally and domestically through research, promotion, marketing and education. Kansas wheat farmers support the Kansas Wheat Commission with a voluntary 1.5 cent assessment on each bushel of wheat produced in Kansas. For more information, log onto http://www.kansaswheat.org/.
King Arthur Flour is America's oldest flour company and premier baking resource, offering ingredients, mixes, tools, recipes, educational opportunities, and inspiration to bakers worldwide. For more information, visit http://www.kingarthurflour.com/.
Fleischmann's Yeast was founded in 1868 and over the years has developed a complete line of yeast products including Active Dry Yeast, RapidRise Yeast, Bread Machine Yeast, Fresh Active Yeast, and Pizza Crust Yeast. Fleischmann's Yeast offers expert resources to consumers through a number of free programs. The most popular is a website, http://www.breadworld.com that is bursting with baking tips and nearly 1,000 recipes serving both the beginner and experienced baker.