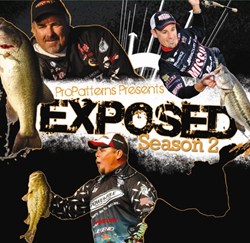 I feel like each year ProPatterns' Exposed takes it to a new level.
Yankton, South Dakota (PRWEB) August 14, 2013
Graphic design artist Krista Mann and Zach Wallinger, online and video animator, took time from their busy schedules to provide insight into their relationship with ProPatterns and the creative process involved in making ProPatterns and Exposed a cutting-edge platform for fishing enthusiasts.
Mann is stationed with her husband, Jerrod, in Germany, where she works as Marketing Director for the 52d Force Support Squadron. Wallinger resides in Omaha, Nebraska, where he works for the video production firm Stream Light Productions as lead Videographer/Editor.
Mann and Wallinger both studied at Mount Marty College in Yankton, South Dakota, both majoring in Graphic Design and Media Arts. Mann started working for ProPatterns four years ago, after having done some design work for a charitable organization in which Chad Ekroth, President and CEO of ProPatterns, was involved.
According to Mann, "(Ekroth) then asked me to assist him with ProPatterns.com web banners, posters for events, and logo designs. That is when he had told me about the series Exposed. I made the logo, color schemes, and design elements for the series. I have created all the DVD covers for the series, and I'm working on the Season 2 DVD cover as we speak."
Wallinger connected with ProPatterns through Mann. According the Wallinger: "Chad was looking for someone to do video and Krista mentioned my name. That was early Spring of 2011." Mann's and Wallinger's talents and creative efforts have been integral to the ProPatterns and Exposed brand as the company has grown over the past few years.
Mann tells ProPatterns, "I have always been interested in art and computers, (Graphic Design) was a perfect major for me."
Wallinger's love for the cinematic arts goes back to childhood, as he recounts: "I have always had a passion for making videos and home movies. I started when I was in elementary school, running around and making movies. Through high school, I made a number of Motocross videos."
Though Mann's and Wallinger's roles with ProPatterns are not on the water, but in the editing studio, their efforts in bringing Exposed and ProPatterns to life deserve attention. "The most challenging thing working in digital arts," Wallinger tells ProPatterns, somewhat jokingly, "is meeting deadlines and pleasing clients."
Mann contends that, "The most challenging part of working in the digital arts is keeping everything you do unique and fresh, coming up with a design that is your style yet different. Most people don't come up and ask to have the same exact design as the one you previously made. They want something original and something that people will remember or recognize. That is all part of the challenge as a graphic designer."
With Season 2 of Exposed set for release on DVD, and Season 3 set for online release, Wallinger hints at what is in store for viewers: "I feel like each year ProPatterns' Exposed takes it to a new level," he says. "I feel like this season will be no exception."
About ProPatterns, Inc. and Exposed:
ProPatterns, Inc. is a leader of angling education offering a variety of fishing tips and membership services online. Information is gathered from various sources and shared with members in a variety of ways. The Exposed video series, for example, gains all of its integrity from an alignment with the biggest names in the bass fishing industry including professionals who fish with BASS, FLW, and PAA. Cooperation from the anglers and their willingness to share is the catalyst for the growth of this series.
The company is based in Yankton, South Dakota, home of CEO and President Chad Ekroth. Ekroth's background includes a computer science degree and business experience involving several successful startups. When not tending to business, Ekroth spends his time tournament fishing and engaging in other industry relations including a long time commitment to B.A.S.S. Nation as a 25 year member and competitor.
In addition to Exposed the company provides online fishing journals, payday opportunities, sponsorship opportunities, and a variety of other services including the new enhanced Fantasy Fishing competition which provides all members a chance to win prizes.
Visit http://www.ProPatterns.com today to receive all of the latest information about the Exposed videos series, to participate in Fantasy Fishing, and to learn more about all of the member services available.