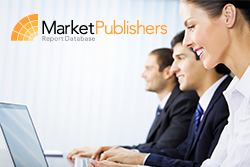 London, UK (PRWEB) August 15, 2013
Market Publishers Ltd and Beijing Hengzhou Bozhi International Information Consulting Co., Ltd (QYResearch) signed a partnership agreement for quality market research promotion on Internet. MarketPublishers.com is now authorised to distribute and sell QYResearch research reports.
Commenting on the agreement, Tanya Levdikova, Assistant Manager at Partners Department, noted: "We are glad to announce that a new member from China, QYResearch, has recently joined our team of publishers. Set up in 2007, the company specializes in management consultancy, custom research, IPO consultancy, industry chain research, data base and seminar services. QYResearch is able to supply clients with high quality products and services owing to its rich database, unparalleled expert resources, professional team and sound experience. The company provides publications covering over 30 industries, both in China and worldwide. Beyond all doubt, the cooperation with QYResearch will be of much benefit not only to our two companies, but also to our numerous clients, as they will be provided with all the insights needed to respond to new business opportunities."
In-demand research reports by QYResearch:
2013-2016 Research Report on Global and China Linear Accelerator Industry. The report is an essential source of qualitative and quantitative information on the performance of the global and China's linear accelerator industry. It contains an overview of the macroeconomic environment, offers insights into the regulatory landscape and presents an in-depth market analysis. The study uncovers the supply-demand statistics, describes the competitive scenario and unveils details on the leading companies operating in the market. In addition, the report examines the trends predominant in the industry and discusses the future outlook of the industry until 2016.
2013 Deep Research Report on Global and China Sheet Molding Compound (SMC) Industry. The study grants access to the insightful analysis of the global and Chinese SMC market. It presents critical information on the production, consumption, exports and imports; traces the prevailing development trends; delves into the competitive environment and provide details on the top manufacturers. The research study examines up- and down-stream industries, describes the marketing channels, provides investment feasibility analysis, discusses burning industry issues, and outlines the prospects for the future development of the SMC sector in China and globally.
2013 Deep Research Report on Global POM Industry. The report provides a comprehensive guide to the world POM market and uncovers critical information on the market performance. The research study contains regional market analyses, presents consumption and production statistics, discloses data on the foreign trade, offers insights into the competitive environment along with detailed profiles of the leading market participants. The insightful examination of the market landscape and in-depth analysis of the up- and down-stream industries are at hand in the report. Moreover, the study discusses key industry trends and issues.
More details on the publisher and its research reports can be found at QYResearch page.