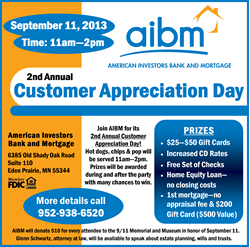 Eden Prairie, MN (PRWEB) August 13, 2013
American Investors Bank and Mortgage (AIBM) is holding their second annual Customer Appreciation Day on Wednesday, September 11 from 11 a.m. to 2 p.m. For every attendee, AIBM will donate $10 to the 9/11 Memorial & Museum in honor of September 11.
AIBM is located at 6385 Old Shady Oak Road Suite 110, Eden Prairie, MN 55344. Attendees can enjoy a lunch of hot dogs, chips, pop and apple pie.
In addition to lunch, attendees will also have the opportunity to win prizes. Prizes will be awarded during and after the party and there will be many chances to win. Prizes include $25-$50 gift cards, free set of checks, increased CD rates, home equity loan-no closing costs and first mortgage-no appraisal fee and $200 gift card (up to a $500 Value).
For more details, please call AIBM at (952) 938-6520. To learn more about the 9/11 Memorial & Museum, please visit: http://www.911memorial.org.
About the company:
American Investors Bank and Mortgage is a local, full-service bank located in Eden Prairie, MN. AIBM offers a comprehensive line of banking products from personal checking to small business loans, all of which feature their signature personal touch. Competitive rates are paired with features designed to simplify the banking experience including online account management and streamlined loan application processes. Whether banking is personal or business, AIBM's customer service standards ensure accounts are handled with the utmost care. They understand that as financial goals evolve, banking needs can become more complex, which is why their staff is available to guide customers through each financial stage of life from putting that first dollar into a savings account to buying a home to opening a business. AIBM is only minutes west from Highway 169 off of Highway 62. For more information, please visit their website, http://www.aibandm.com/.