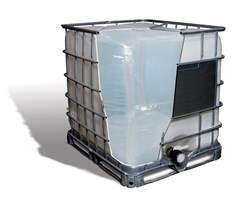 Alpharetta, Georgia (PRWEB) August 15, 2013
The Guardian "bottle-in-cage" tote liner system from Grayling Industries allows intermediate bulk containers like the Schutz, Mauser and Greif totes to be reused immediately without expensive and time consuming cleaning processes.
This liner system eliminates the need to ship an empty container to and from a remote cleaning facility, which reduces the environmental footprint of the container and keeps the tote in the fleet.
This Guardian tote liner is designed to work with "top dispensed" containers in the 275 gallon, 1,000 liter and 330 gallon capacities and is constructed of FDA approved and Kosher certified films.
The video is just over three minutes long and shows how easy the liner is to install and remove. Follow this link to see the instructional video.
Grayling Industries is a North American manufacturer of intermediate bulk container (IBC) liners and bags for both dry and liquid products and a distributor of flexible, corrugated and collapsible intermediate bulk containers.